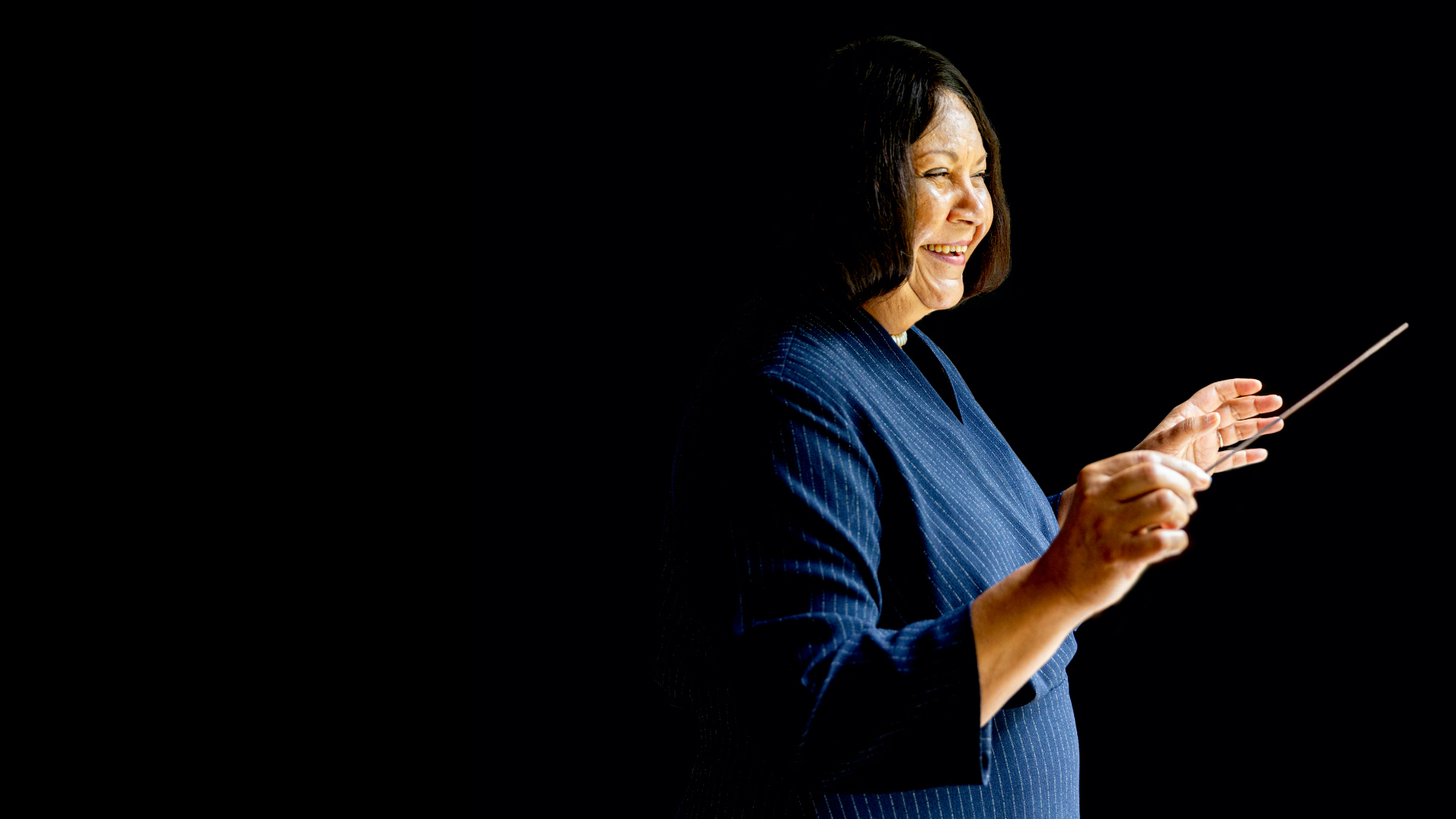 The
Conductor:
Dr.
Verna
Ruffin
With the health, safety and growth of 19,000 students under her purview, DR. VERNA RUFFIN has a lot to consider. So the Superintendent of Waterbury Public Schools is executing a complex plan to better align teachers, administrators, parents and partners in "making beautiful music together" – just like when she started her career as a Bayou-area band director more than four decades ago.
It's a downright scorching Tuesday in downtown Waterbury, one of those days where the sun can envelope you as soon as you walk outside. Inside the historic Chase Building, the persistent heat is still dancing around, parading along the ornate columns and down the dark wood halls.
In the spacious office that juts out towards City Hall sits Verna Ruffin, calmly combing through a district performance report. The relentless rays stream in from the 15-foot tall windows, desperately trying to get her attention and distract her from progress being made. Ruffin, however, is studious, focused.
WORX
Her demeanor is the same as when she took the helm of the Waterbury public school system in July 2018, after being selected from a nationwide search. Ruffin was drawn to the City – and the City to her – because of the voiced desire to see universal student success born from a system of increased accountability.
"I thought I could bring a skill set, that I could work with a diverse group of thinkers, in an environment with so much potential and hope," says Ruffin in a pleasant, even voice. "I also saw a school board and a mayor that was ready for change. I saw that, in their attempts at policy and reinforcement of policy, there was a commitment for, 'We have to do something better. It's time to move the needle.'"
Ruffin, who is quick to note the efforts of educators and administrators throughout the school system as a key reason, is certainly moving the needle.
City high schools Crosby, Wilby, Kennedy, Waterbury Arts Magnet School and Waterbury Career Academy have all seen graduation rates rise during Ruffin's tenure. In 2019, Crosby graduated 84% of its seniors, an 18% increase in just two year's time. Career Academy graduated 98%.
---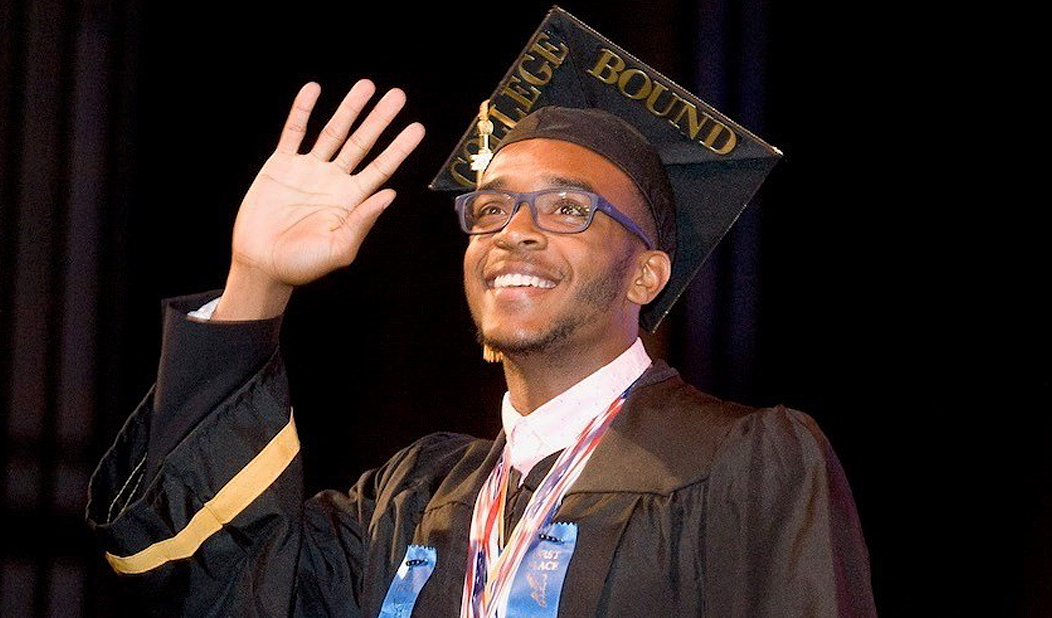 Waterbury Public Schools
Ruffin is pleased with the progress, but also understands the gravity of the real goal: Getting every young person to be engaged during their school-centric years, and prepared for success beyond.
When asked what it's like to carry such a huge responsibility, her reply is frank:
"I take that very seriously everywhere I go, but it can be a very lonely place. You are that person that people are entrusting to make critical decisions to move the district forward."
WORX
It's a feeling which harkens back to her childhood, on the family's 25-acre farm in rural Scott, Louisiana. The town's population was under 900, her nearest neighbor was a quarter of a mile away, her parents only spoke Creole, and she was their only child.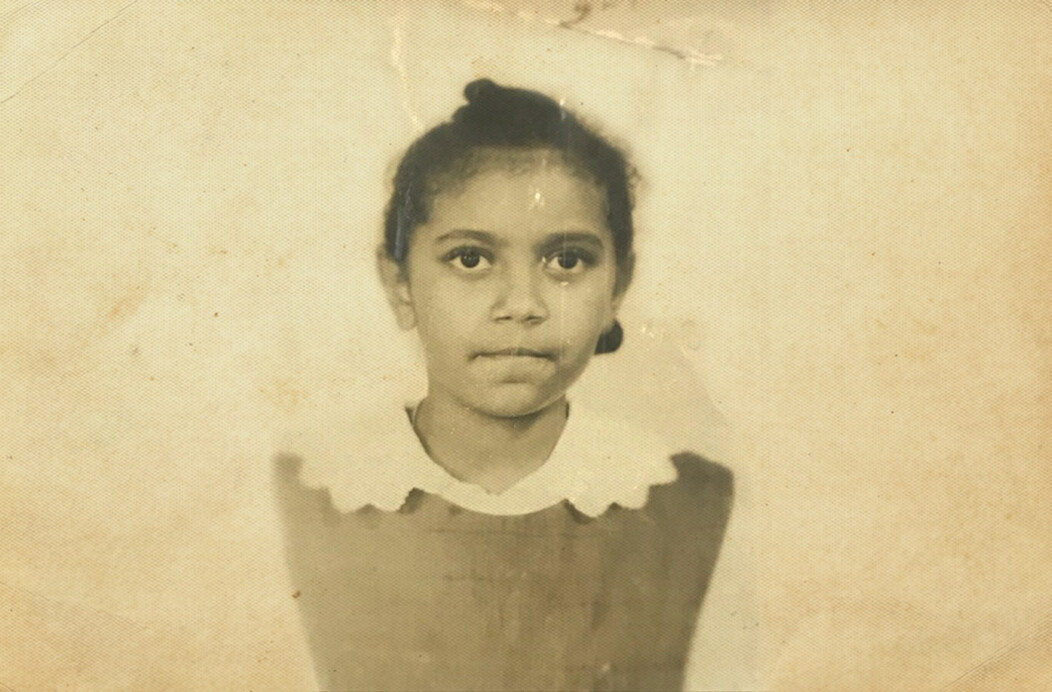 Growing up in a small town, there's not very many things to do. So, I had a fascination with reading, and with music. It was just so transformative for me. It took me to places I couldn't see.
A defining moment – when she knew she would be an educator – came in eighth grade. The Sisters of the Holy Family, a local Catholic school that Verna had just begun attending, hired a man named Cole Bellamy. There, Bellamy started the school's first-ever band.
For a young girl whose teachers said was "quite timid," the clarinet became her voice. "It opened up a world for me, gave me confidence," Ruffin recalls. From that moment on, Verna's passion was to teach others to find their voice.

Ruffin graduated high school, then earned a Bachelors in Education from the University of Louisiana. Then, a Masters in Education from Louisiana State University. Later, a Masters in Supervision, an Education Specialist degree from Louisiana, and a Doctor of Education from the University of Oklahoma. The latter three degrees she earned while working full-time and raising a daughter.
Ruffin's career showcases a depth of experience in nearly all aspects of education – Assistant Principal, Principal, Director of Secondary Curriculum, Area Superintendent and Chief Academic Officer among her past roles – with a trail of success in Louisiana, Texas, Oklahoma and Tennessee.
But it's her first job that still heavily informs her vision – for fourteen years, from 1975-1989, as the Band Director at Edgar Martin Middle School in her hometown of Scott.
I always go back to my passion for music, and the fact that I probably will always be a band director and a teacher at heart.
Ruffin continues: "And I can tell you why: You really learn how to orchestrate. You learn how to organize. You learn that it's not just one tone or one voice or one instrument. It's every instrument playing a significant role in making the beautiful sound."
As she speaks more about being a conductor of student success, Ruffin gets wonderfully animated: "You have to take something that maybe no one else can see, and work with it, and craft it, and tune it, so that it all plays together really well. In order to do that, you've got to take something that may not have been anything other than an isolated squeak on the side, and develop it, so that it becomes something masterful."
Working, crafting, tuning and playing well together? It requires someone who's unflappable, and willing to have tough, fruitful conversations across the community. (Given her lifelong love, it may come as no surprise that one of Ruffin's favorite movies is The Sound of Music. And given her noticeable grit, it makes sense that another favorite is The Godfather.)
Access and communication were hallmarks of the progress Ruffin made in other large, multi-pronged, urban school systems – from Tulsa, Oklahoma to San Antonio, Texas (which are four and fifteen times larger than Waterbury, respectively).
She is employing the same strategy here, by "meeting with people and really getting to hear what they have to say about the city, about the school system.. what they perceive to be some outstanding things happening in Waterbury, some of the challenges, what would they like to see?"
So, in relation to other cities, what's distinctive about Waterbury?
Ruffin is quick to respond.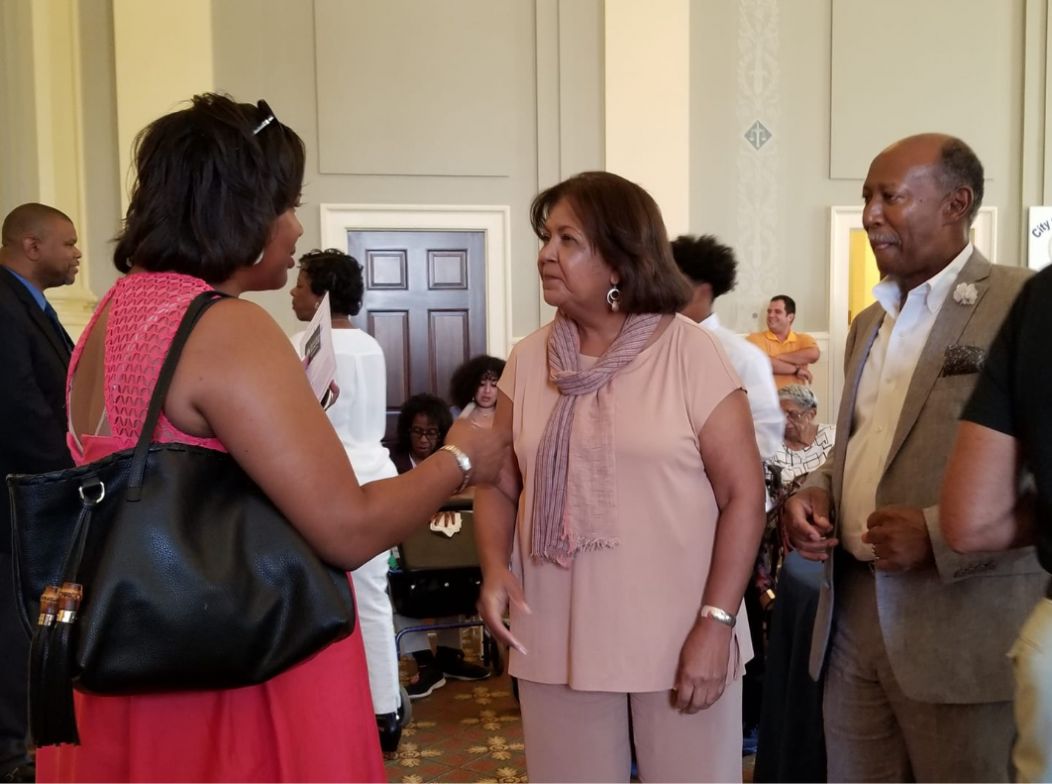 Waterbury Public Schools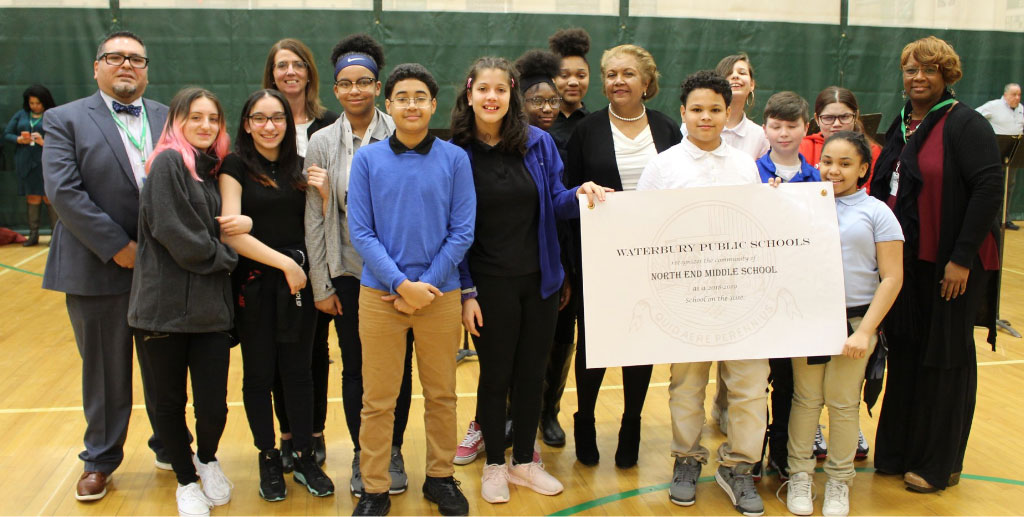 There's great spirit here – one of service, of dedication… people who are genuinely wanting to see Waterbury be the place to be, with a willingness to bring in new ideas. I think that is quite unique.
Ruffin acknowledges that Waterbury expects a lot, and agrees that they should.
The expectations are a great impetus for Ruffin's plan:
That is, to create opportunities for all, and use traditional learning where it still applies, and dream up innovative models, and incorporate technologies, and offer schools that focus on specific interests, and build partnerships – like the Early College High School, where City high school students can earn an Associate Degree from Waterbury-based Post University before they graduate.
---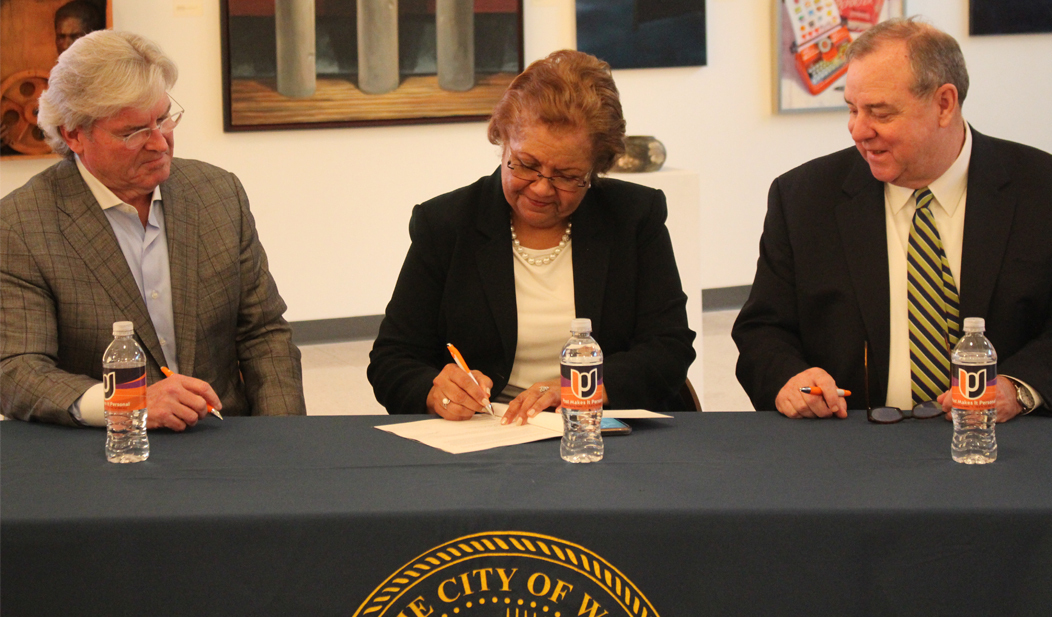 Post University
Dr. Ruffin signs Early College High School documents with Post University CEO John Hopkins (left) and Waterbury Mayor Neil O'Leary.
All of this, Ruffin believes, is possible through "cross-boundary leadership."
Ruffin wrote about the topic as a contributing author to a 2010 book. It's even evident on her office shelves – with titles like You Can't Send a Duck to Eagle School, The Energy Bus, Buy In and Simple, Not Easy interspersed with Qualitative Research & Evaluation Methods and the Handbook of Special Education Technology Research and Practice.
Cross-boundary, she says, boils down to this:
"It's all about what's best for children, and that's not just a cliché. Not everyone learns the same way, so why do we insist on putting everybody in the same programs? It's challenging work, so what we're trying to do is move to a model that allows for true differentiation. [We have to] meet the needs of all of our students, not just some."
Waterbury Public Schools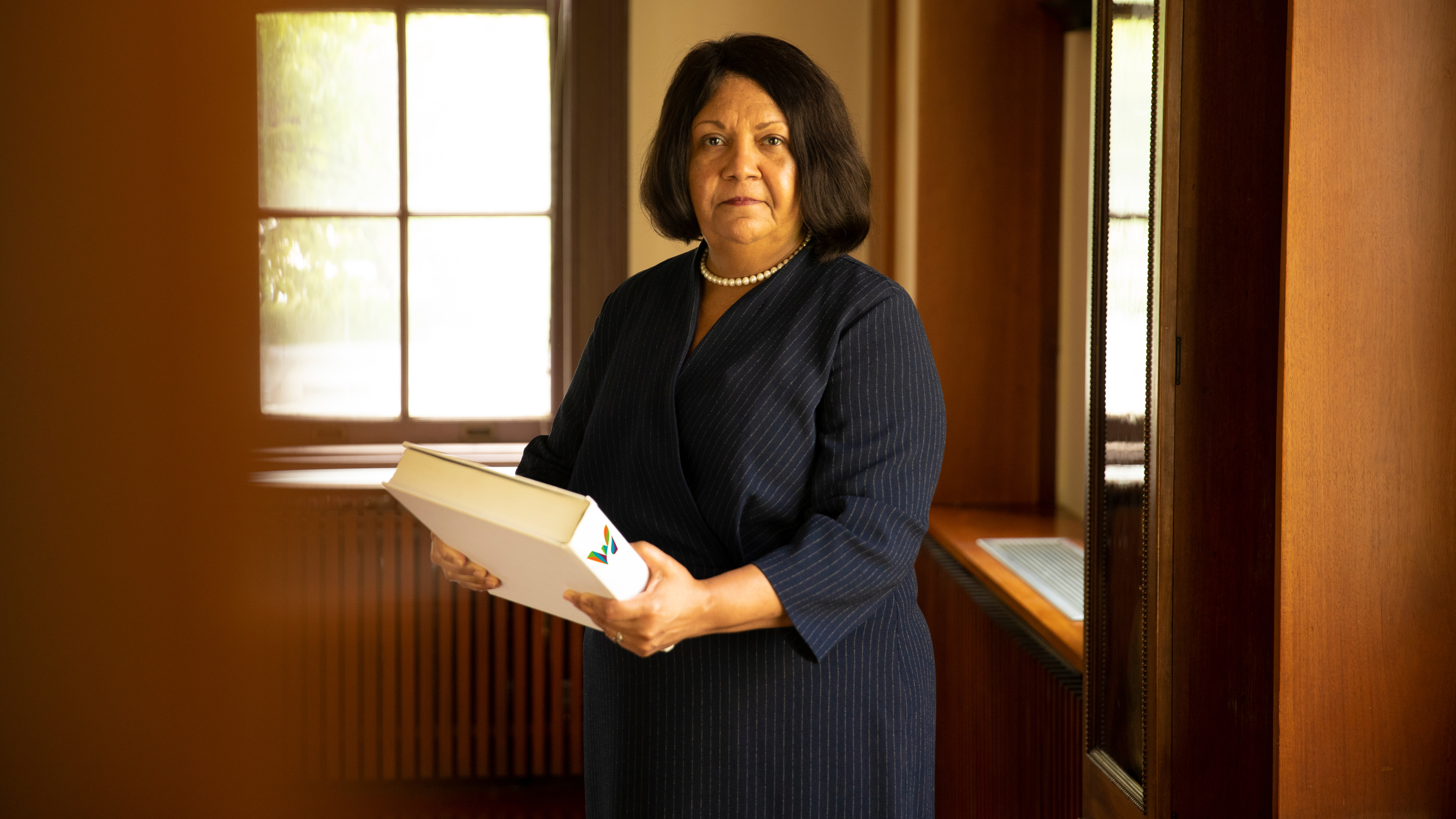 WORX
Ruffin thinks that the quality of the public schools is integral in attracting more people to Waterbury.
"I think that the educational system gives people the confidence that they need to locate or to relocate, with opportunities for their children to grow and flourish. I think there's a sense of pride that people have when they can send their children to a school system where they can also live in the city. They say, 'I could invest in the community that I live in.'"
So what can a student in any Waterbury public school expect?
"I think they can expect to get a high-quality educational experience. And they should expect that their teachers are going to genuinely care for them."
Once again, Ruffin gets animated in her praise for Waterbury teachers:
"They look at the child and they know that that child's success is really hanging on to that teacher's belief, and that teacher's dedication to making great things happen for kids. I think that's why people need to come to school in Waterbury."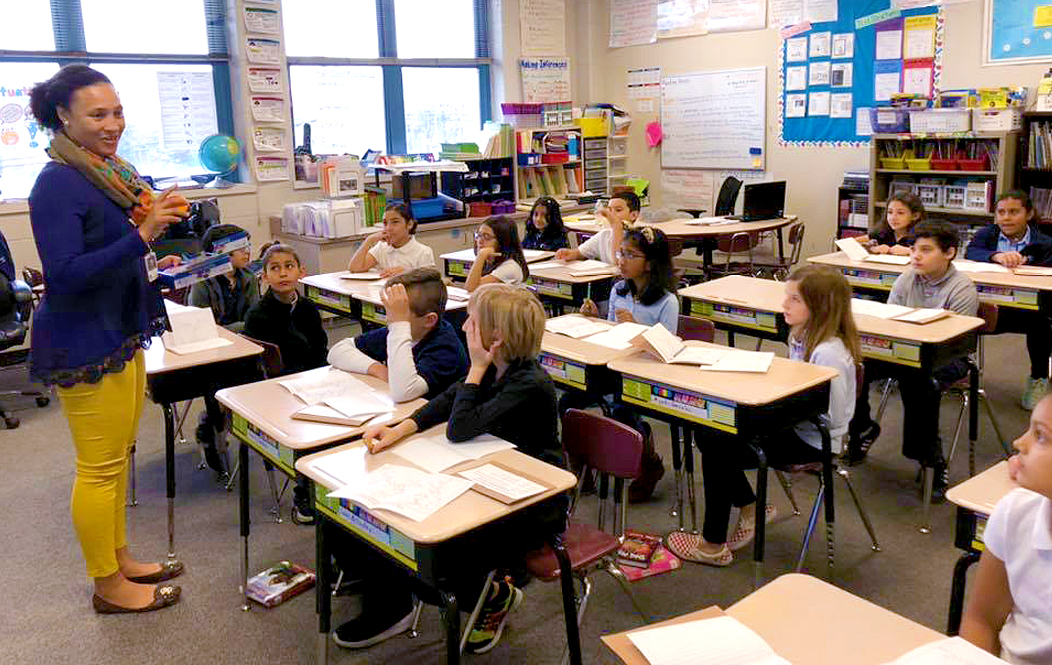 We have some of the best educators around. We have some rock stars.
When asked to provide a parting, single-point view of Waterbury, Ruffin smiles:
"I see a loving, caring community that is deeply vested in the people that they serve, with a huge vision for what that would look like – a redefinition of what success looks like, with the community at heart."
And with that, Ruffin politely excuses herself. There's a 2pm meeting with district principals, and there's more progress to be made.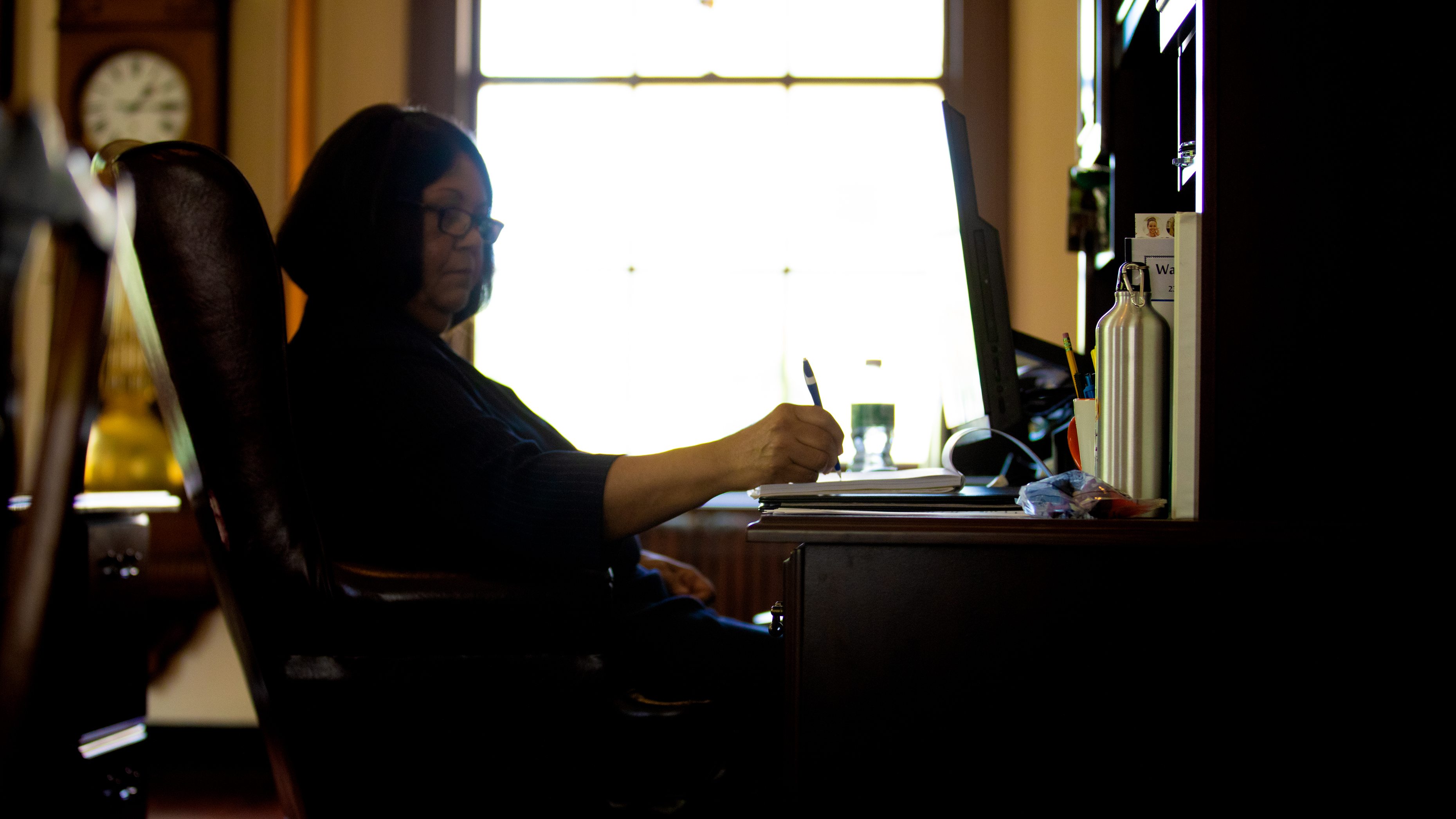 WORX