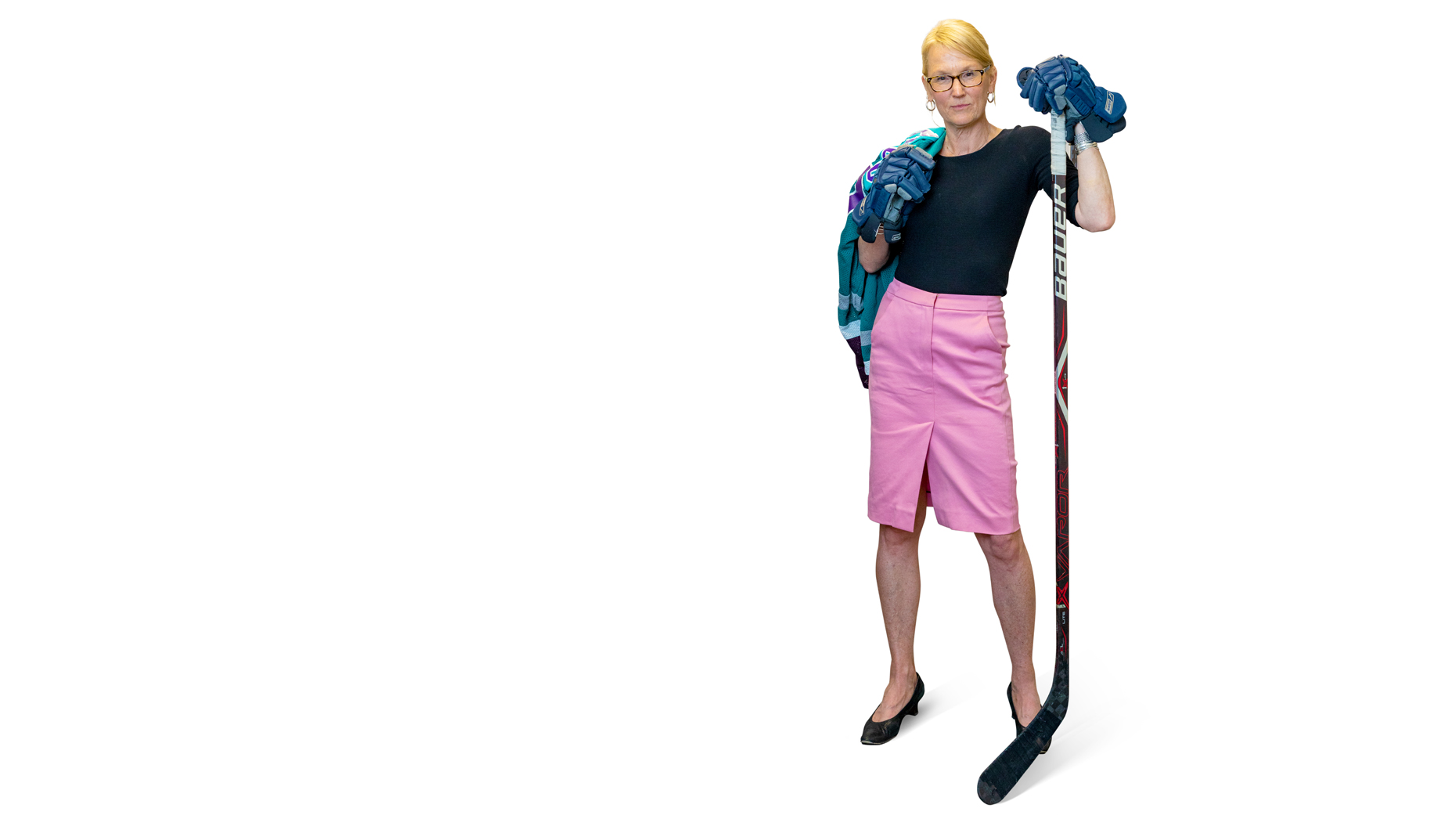 Curious & Courageous:
Molly Kellogg
For 170 years, chemical giant Hubbard-Hall has been a stalwart in Waterbury. Meet its sixth-generation leader, MOLLY KELLOGG – a sharp-witted former Ivy League hockey player who is envisioning how her company becomes even more scientific, and who sees how Waterbury is helping ambitious companies like hers innovate.
Be Candid. Be Curious. Be courageous.
It's on the Hubbard-Hall website. It's throughout their literature. It's voiced in team discussions. Six empowering words, three of which repeat for greater effect.
And, given its omnipresence in how the company behaves, "candidness, curiosity and courage" might very well be the keys to how Hubbard-Hall moves into its most ambitious chapter.
Molly Kellogg is the Chairman, President and Chief Executive Officer of Hubbard-Hall – a $50 million chemical company with three locations on the Eastern seaboard, including headquarters in Waterbury. Molly directs, manages and runs the business – and through direct reports, oversees operations, sales and technical development.
---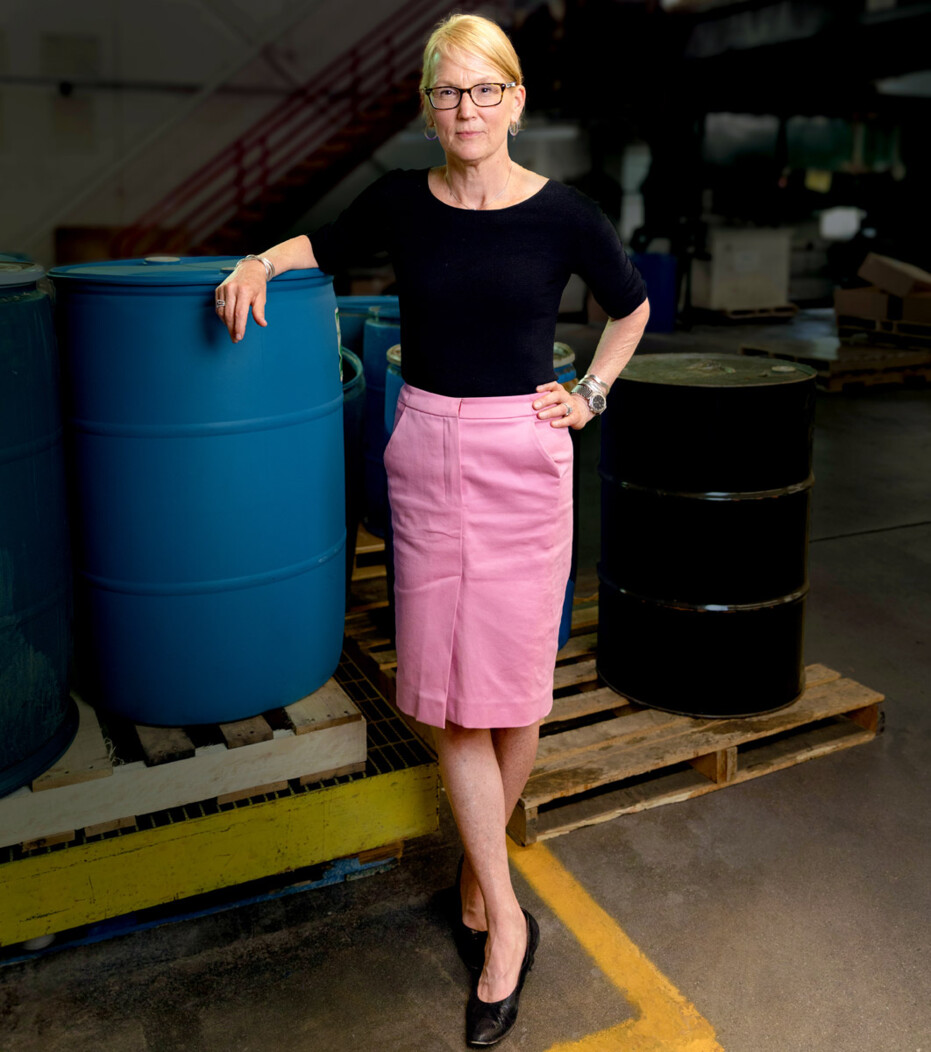 WORX
Through shrewd eyes framed by darkwood glasses, she jokes – "I think I'm also the CFO" – and as she outlays both sophisticated growth strategies and simple observations, it wouldn't surprise you if she's also the lead chemist, plant manager and head of the party planning committee.
Molly was born in Waterbury, one of four Kellogg children. Hubbard-Hall was born in Waterbury, too, in 1849 – as Apothecaries Hall, a little downtown drugstore that sold fertilizers, paints and headache powders.
As the economy changed – and the city became the Brass Capital of the World – Hubbard-Hall's products leaned toward industrial chemicals, a space in the global market that it still maintains.
Today, more than 700 industries and product types – from airplanes to automobiles, fasteners to faucets, connectors to car parts – rely on Hubbard-Hall to lower their manufacturing costs and improve their chemistry expertise.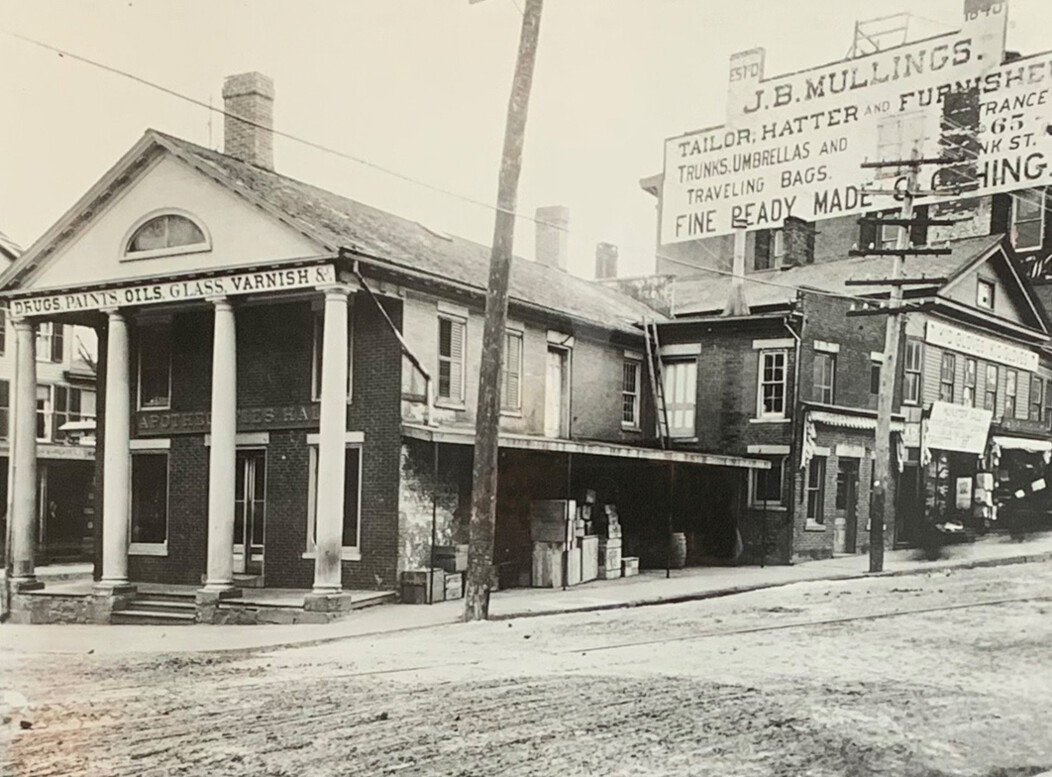 Hubbard-Hall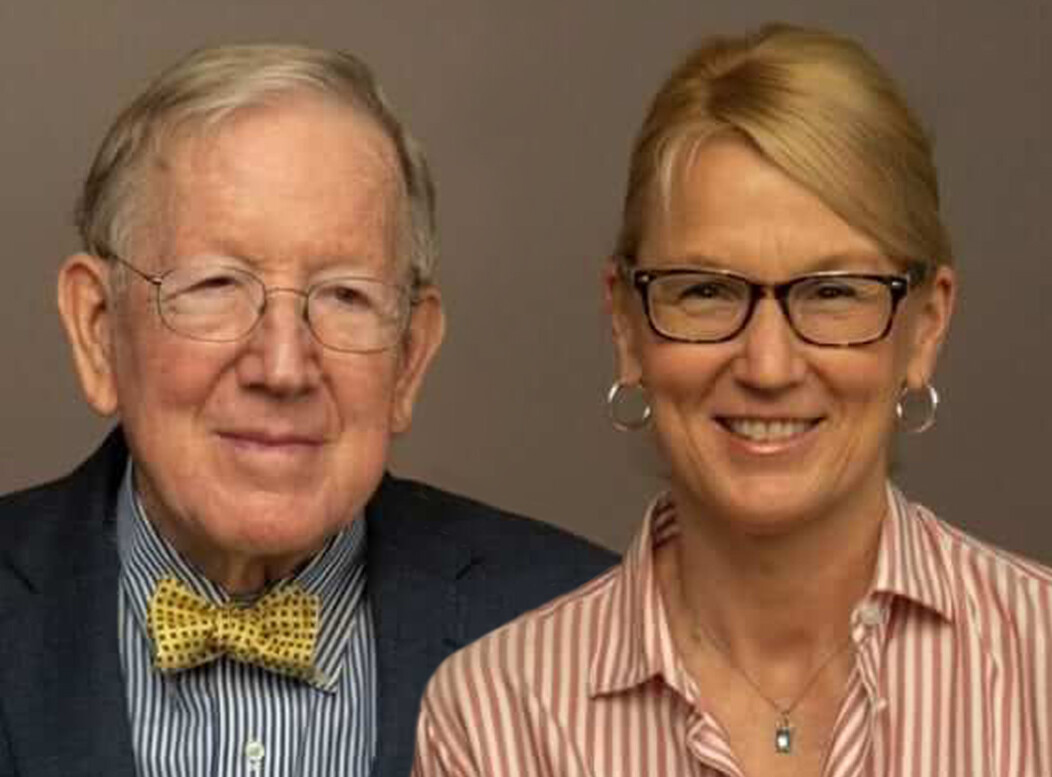 Hubbard-Hall
The late Charles "Chuck" Kellogg and Molly.
Kellogg has seen how Hubbard-Hall has planned, pivoted and grown through the years – leveraging tried-and-true strategies taught by her father, Charles "Chuck" Kellogg, and her cousin, Andrew Skipp, for whom she took over as Chairman and CEO, respectively.
Her family members' conservative philosophy has created a sizable, and stable, business. But lest you think that Hubbard-Hall has been built on simply staying the course, Molly's also been taught to question "the way things have always been done."
Which brings us back to that rallying cry – "Be Candid. Be Curious. Be Courageous." – and a bevy of stories which show Molly's been living the mantra just about her whole life.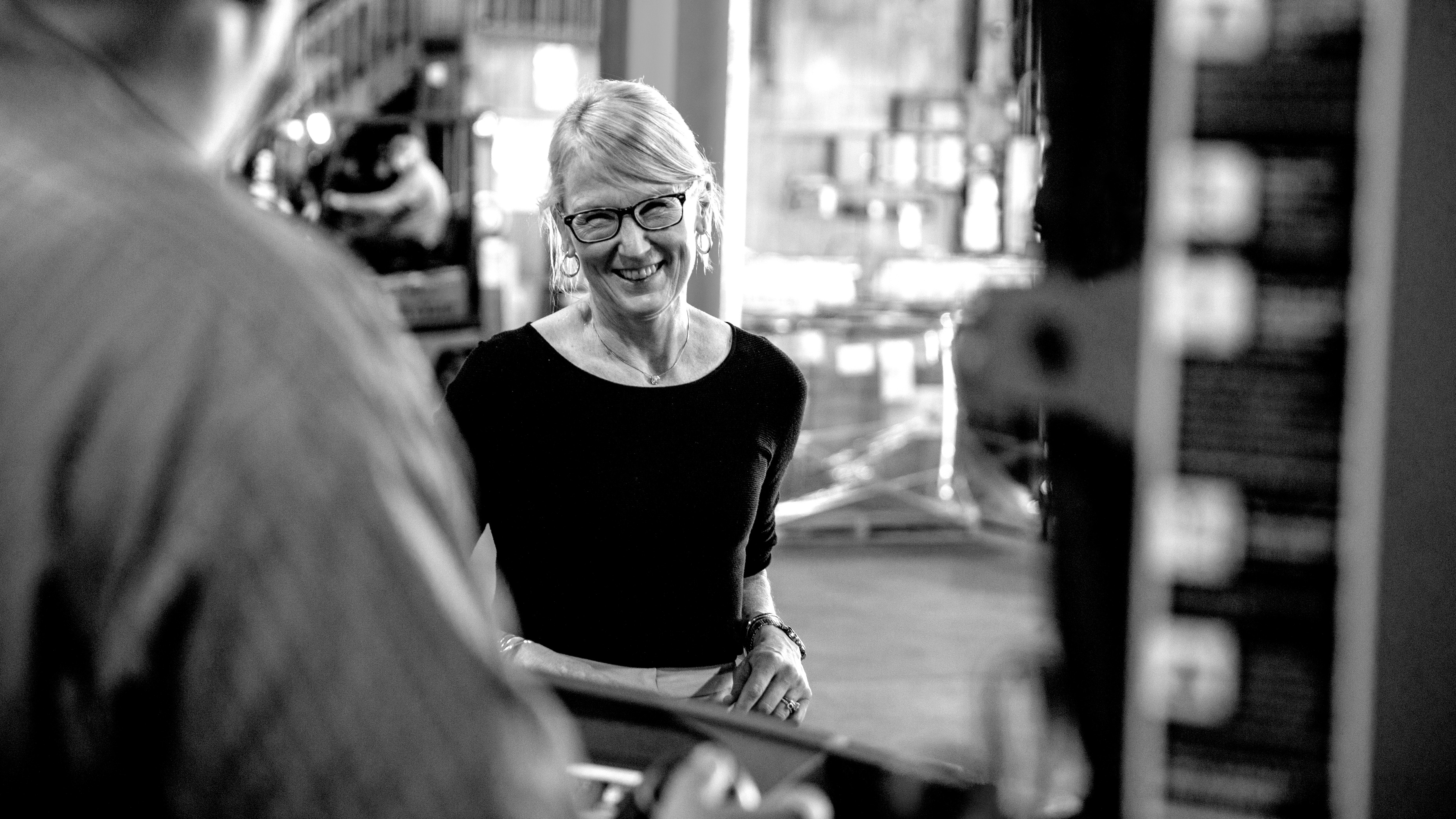 WORX
It's some time in the 1970s. Pre-teen Molly Kellogg is a student at the Chase School, which, like many institutions, has a strict "boys-wear-this and girls-wear-that" policy. Molly doesn't think that's right, and neither does her mom. So, after a conversation at home the evening prior, Kellogg strides into school and informs the administrators that she's going to wear a blue blazer like the boys, not a green blazer like the girls.
Of the time she spent in Waterbury during her teenage years, Molly says through a cracked smille, "Some stuff I probably shouldn't talk about!"
As candid as young Molly was, so too was her father – who insisted that teenaged Molly begin to experience the unique, welcoming business culture in Waterbury first hand.
"My father was a big runner, and he started the Waterbury Track Club at the YMCA. He'd go out every lunch hour to the Y, and I'd go along with him. It was so fun to see. The Y was where everybody in Waterbury would exercise – CEOs, everybody, were there. We'd go run around Waterbury, go to the Tower Grill afterwards, and get back two hours later."
She smirks: "I don't take a two-hour lunch anymore, but I got to know everybody in Waterbury that way."
Kellogg is grateful that dad was insistent on getting out – because she ingratiated herself with professionals from all walks of life at an early age.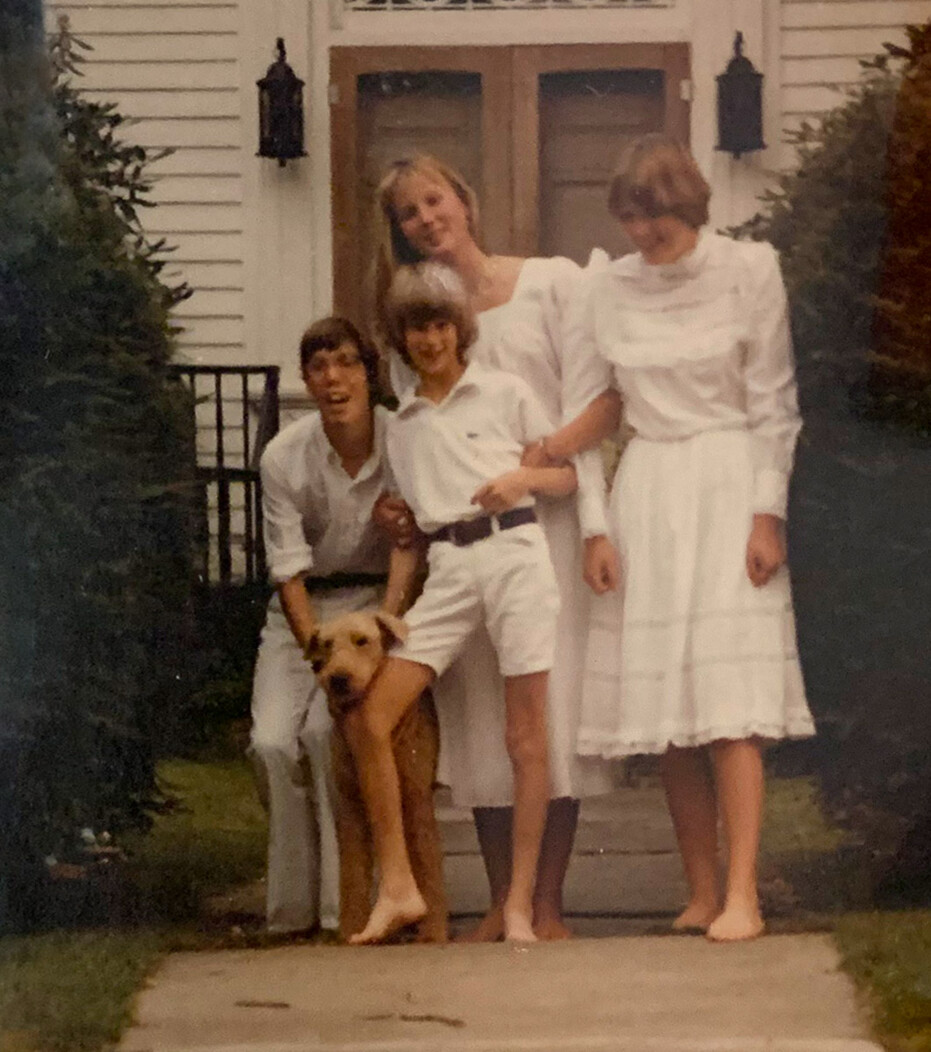 Kellogg Family
Young Molly (back row) with her three siblings.
Getting to know everybody has blossomed into unique relationships in Waterbury, which Molly says is unlike other cities.
"From a business point of view, you want to move to a community where you can engage with accomplished, thoughtful, passionate executives. Waterbury has got all of them – and for a small city, it's remarkable. The diversity of experience people have. The level of accomplishment people have. I can reach out to 30 different CEOs that I've been able to meet, and they are all willing to talk to me. They're willing to help. And they bring a perspective that I might not get elsewhere."
"I've always liked looking for things that were not particularly mainstream," says Molly, who in her high school years found herself intrigued by ice hockey – a relatively new sport at the time for women.
Kellogg steps on the Taft School ice wearing hockey skates for the first time. "I fell flat on my face," Kellogg recalls, "because I was a failed figure skater and didn't know the difference between skates."
She kept skating, though, graduating Taft and heading off to Princeton. Ever curious, Molly tried several courses of study. "I loved advertising and marketing, but majored in comparative literature. Who knows what they want to do at 21!"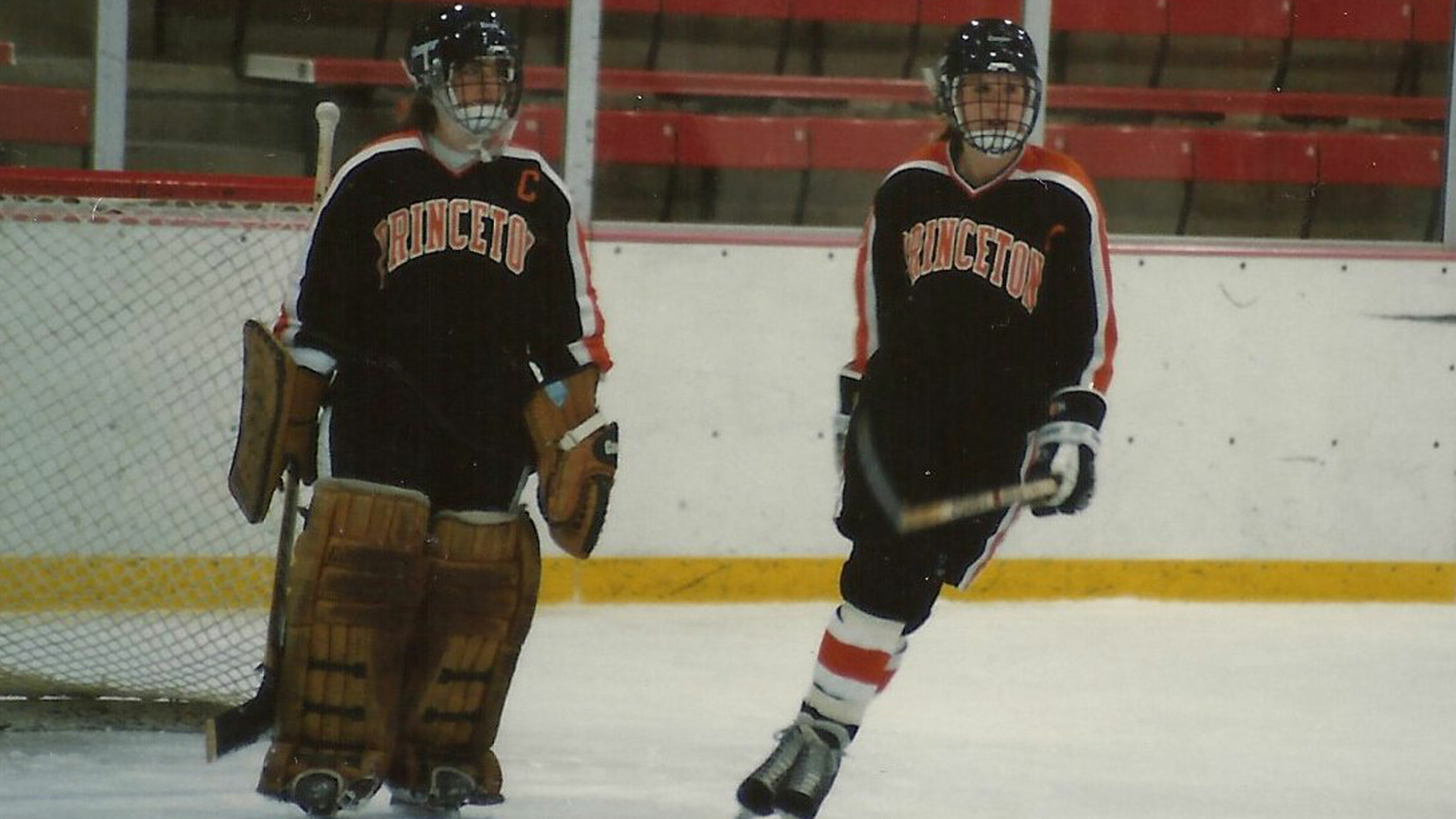 Kellogg Family
Kellogg (right) on the ice for Princeton University.
Kellogg played on the Princeton women's hockey team for four years, becoming Captain her senior year – "Not because I was the best player on the team, but because I went to every extra practice. I had to work harder at that than almost anything else in my life. I just loved it."
(She still plays hockey, heading back to Taft every Tuesday night to skate in a faculty slash alumni slash townie pickup game – everyone from teachers she used to have, to kids she used to babysit for.)
---
Also during her time at Princeton, Kellogg becomes roommates with a girl named Andea. Andrea Dukakis, that is – the daughter of two-time Massachusetts governor and all-of-a-sudden Presidential candidate, Michael Dukakis.
"Here's a guy I had seen in his boxer shorts, making pancakes in Brookline, and all of a sudden there he is in the motorcades and with the Secret Service."
Kellogg became curious about politics, and jumped in to support Dukakis' 1988 campaign, then some local campaigns in California, and later worked on Bill Clinton's team during his run to the White House in 1992.
Kellogg Family
Kellogg in front of Air Force One, circa 1992.
As my father said, I got the guy elected – and then I left the country!
Curiosity called again, leading her to the Institut Européen d'Administration des Affaires in Fontainebleau, France, where she earned a Master's Degree in Business Administration.
While Molly wasn't initially interested in joining Hubbard-Hall, but that changed in 1994 when the company made an acquisition. For reasons she couldn't ascertain at the time – it was curiosity, in retrospect – she found herself leaving France and coming to this new branch in Wilmington, Massachusetts. The rest is history.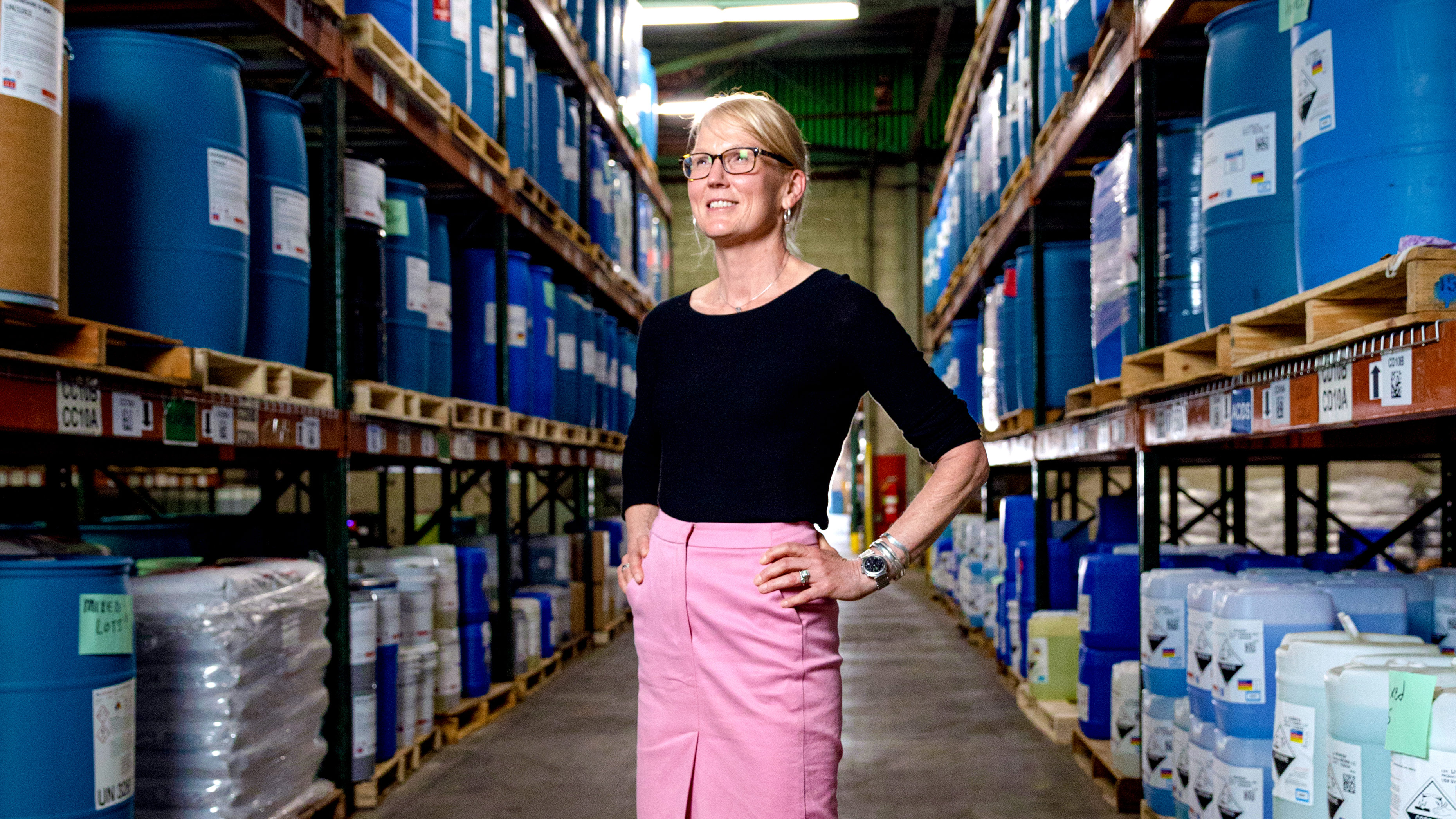 WORX
Lest one think that the top role – or roles – in the sixth-generation business was handed to Kellogg, it's quite clear that she had to work extra hard to earn the respect of her family and her colleagues.
Molly held various ground floor positions in the company – Communications Manager was her first job, she thinks, and "Accidental Salesperson, selling a product line that no one else knew how to sell" was her most memorable – before earning a spot as an Assistant Manager. Over the next two decades, she worked tirelessly to garner promotions, to Manager, then Vice President, then Executive Vice President, then CEO.
If she sees herself as a courageous leader, it's centered around a counter-intuitive business plan.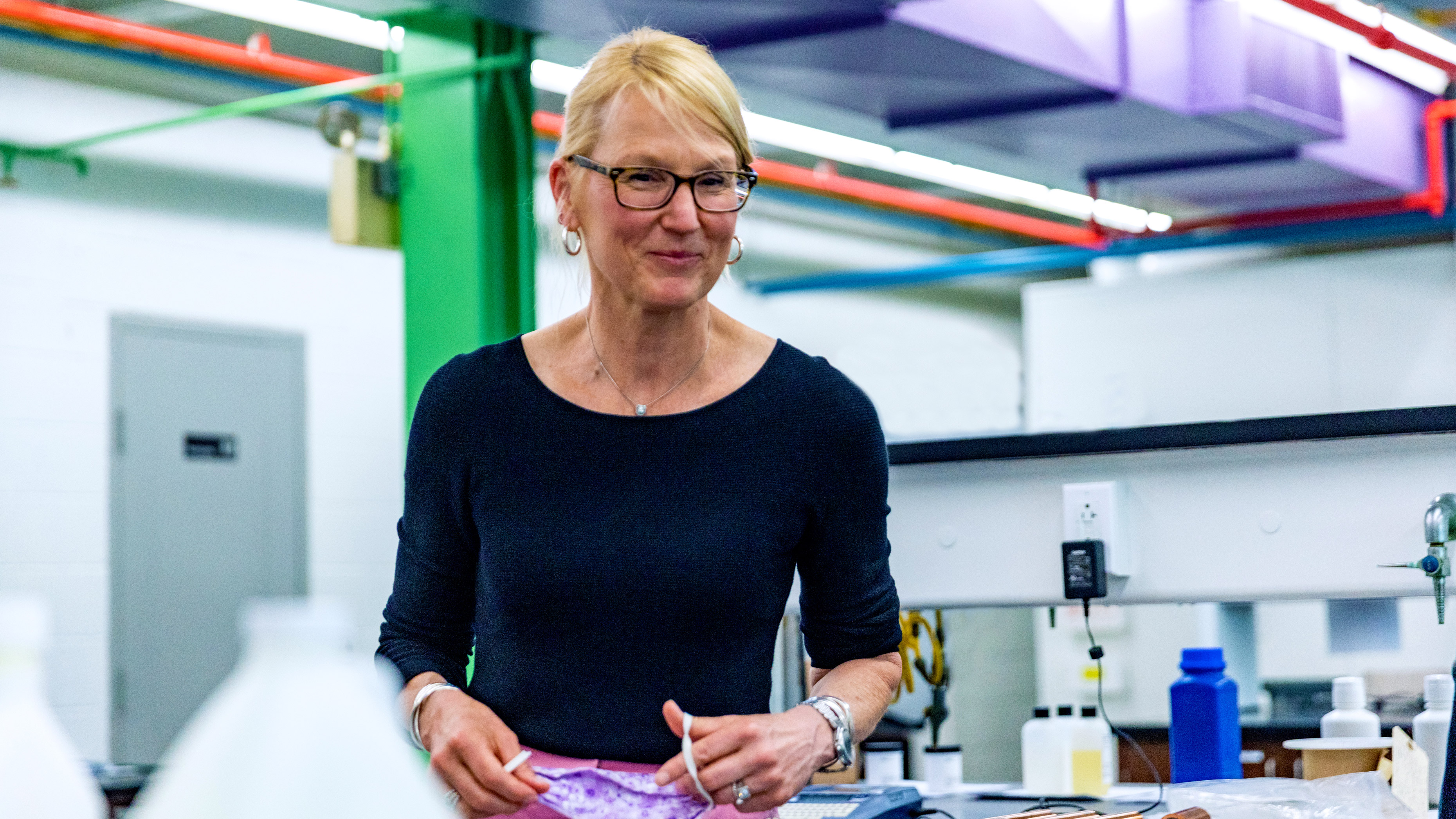 WORX
If I think about building a long-term business, ultimately I want to be the chemical company that sells our customers fewer chemicals. We've got a brand new product launched this year that takes one of our biggest product lines and potentially cuts its usage by 30 to 60 percent. It's scary. It's the right thing to do.
She also admires the courage shown by one of the young, female chemists at Hubbard-Hall – who approached Kellogg with a financial distribution plan for a wastewater product. Kellogg ran the math, and said that the plan wouldn't work.
Rather than become disenfranchised, the chemist came back three months later with another plan – a program which has now been implemented. As much as the innovative program, Molly loves the woman's resilience "to solve the problem, again, and keep moving forward."
On the topic of moving forward, Kellogg says Waterbury is helping manufacturers like Hubbard-Hall do just that.
The Waterbury today is unlike a lot of other traditional industrial cities. I think about [Mayor] Neil [O'Leary] being so pro-business, and doing everything he can to make Waterbury a place where people want to come and build their business. It's great to see manufacturing coming back into Waterbury. I think we should double down on it. Let's figure out how to bring additive manufacturing. Let's think about robotics. Let's think about even AI.
So, is Hubbard-Hall "doubling down?"
"Absolutely," says Kellogg. "We're adding chemical engineers. We're adding tech support staff. We're looking at acquisitions. We're looking at reinvesting here in Waterbury. We'll always be here."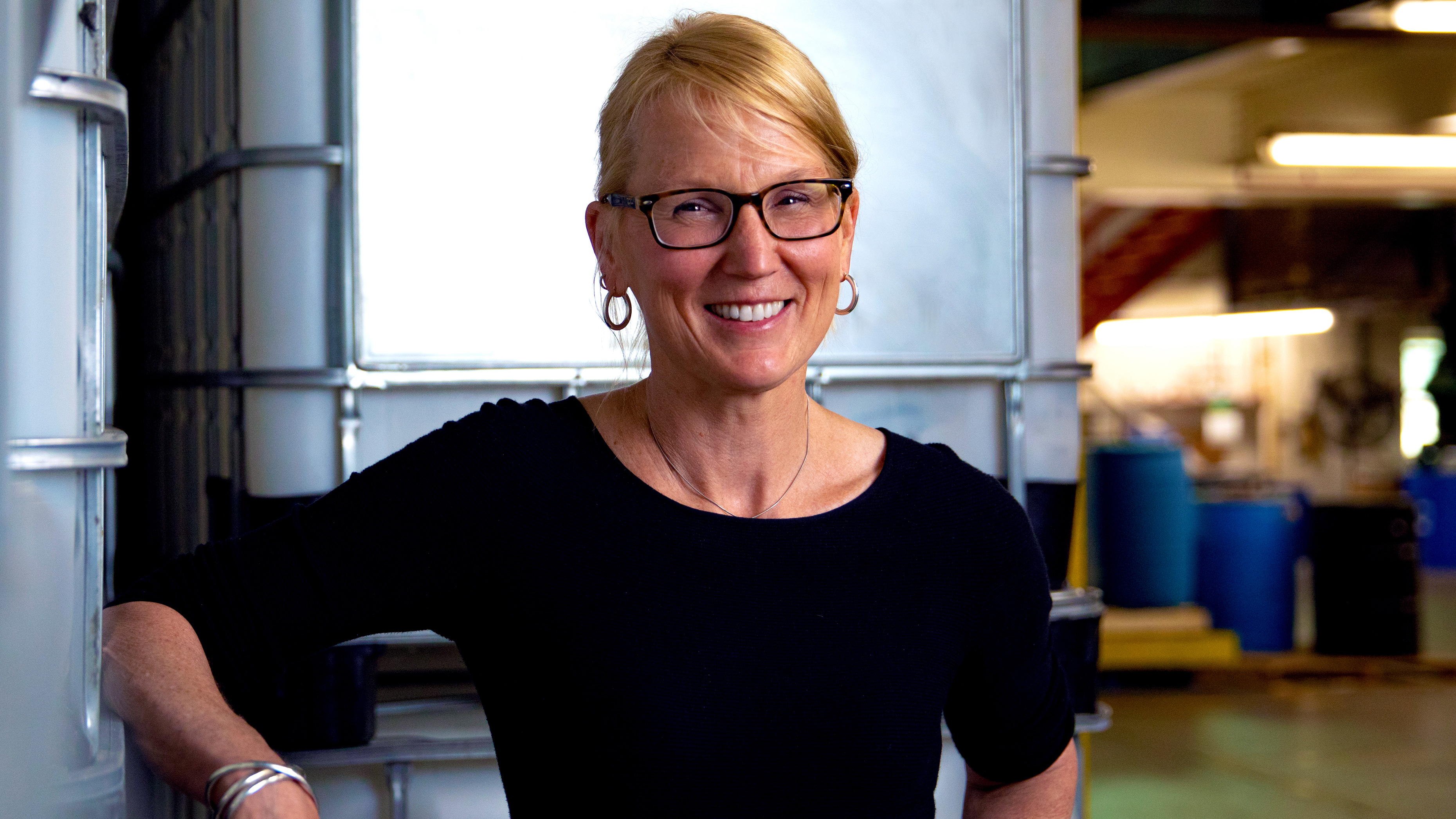 WORX