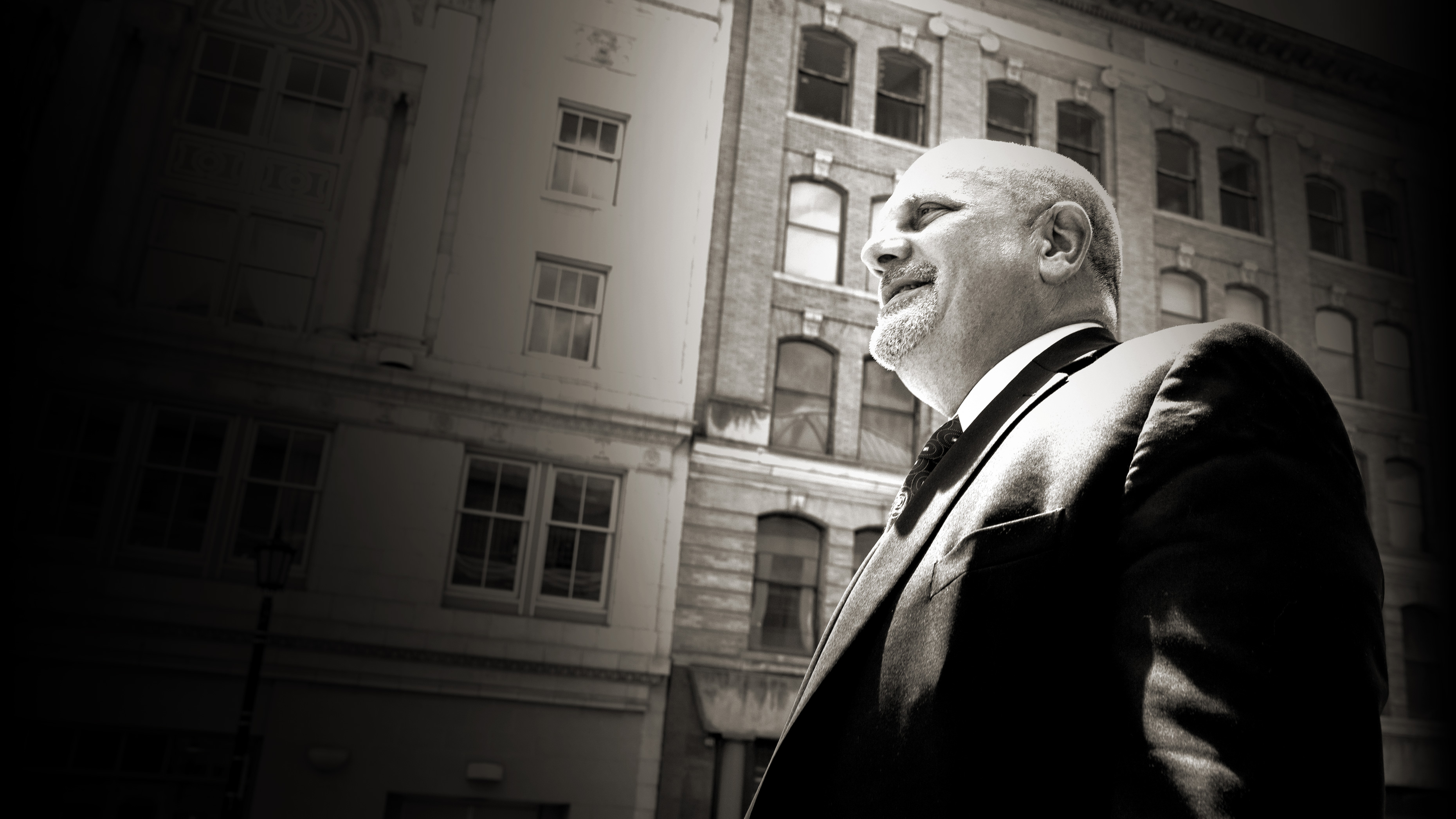 The
Walker:
Dr. Steve
Schneider
A physician and administrator in Waterbury for over thirty years, DR. STEVE SCHNEIDER knows a thing or two about providing care for this community. Yet, the former Army doctor is diligent in making sure he stays connected to the people's needs – and his "feet-on-the-street" philosophy has helped Saint Mary's further advance its care services.
It's a little past high noon in Downtown Waterbury. This Tuesday afternoon isn't just warm… it's a downright scorcher. Like, fry-an-egg-on-the-pavement hot. Run-through-a-hose hot. Streets-look-like-a-mirage hot.
Leaving his comfy, climate-controlled confines, Steve Schneider makes his way out of his conference room, down the hospital corridor, in and out of the elevator, down a staircase and – pow – out into the swelter, the humidity immediately hitting his face. He's wearing the antithesis of "weather-appropriate attire" – a black suit, white business shirt, maroon patterned tie, black socks, brown shoes.
"You're going to need to Photoshop out all of the sweat," he jokes, in a calm and well-mannered tone. And then, he's off.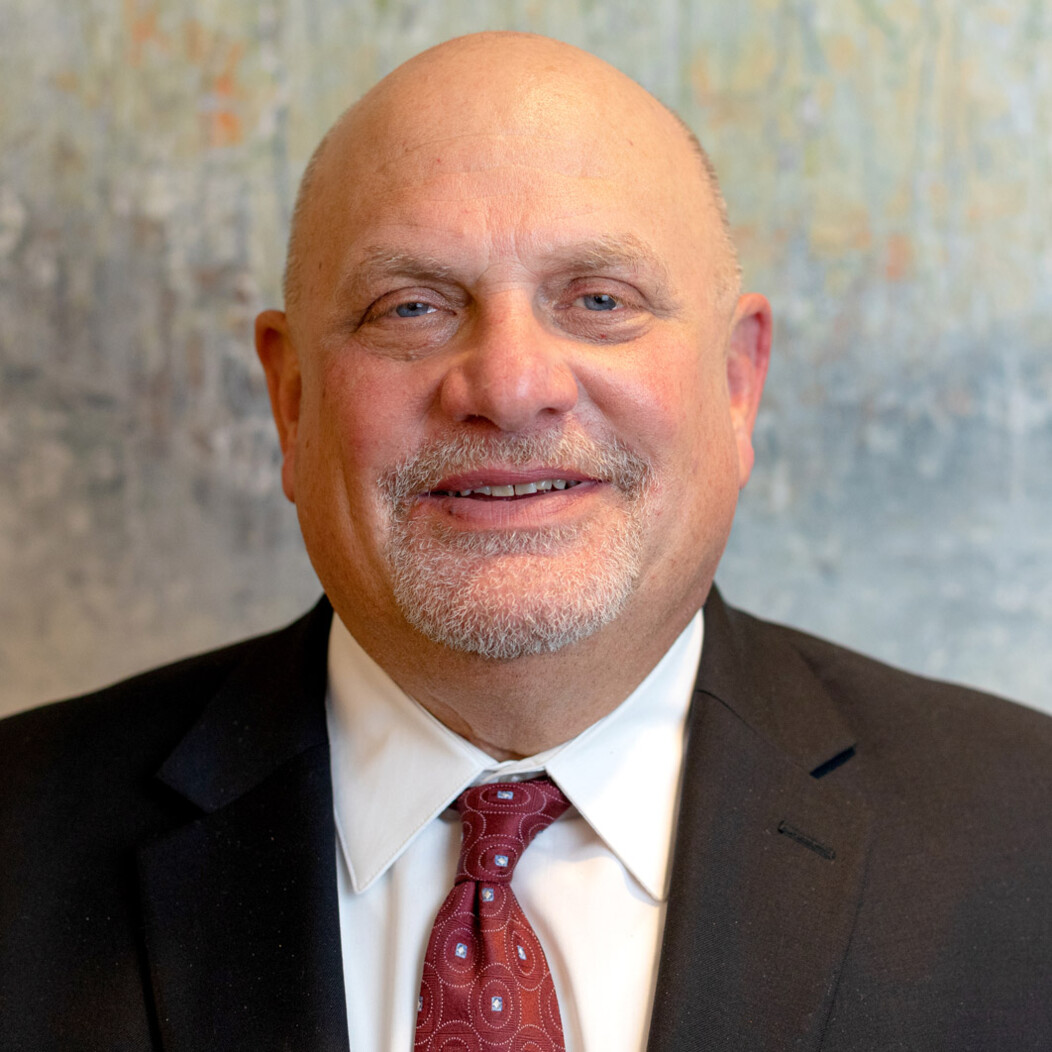 WORX
Dr. Steve Schneider is the recently-retired President of Saint Mary's Hospital, an acute care, community teaching hospital that has served Waterbury since 1909, and is a member of the Trinity Health of New England family.
Where Schneider's off to, is "around town."
He often takes lunchtime walks throughout the neighborhoods in the City. His jaunts are part business, part pleasure. "When I'm walking, you look at the Clock Tower, you look at the churches, and it almost feels like you're in an Italian city. It's wonderful… the architecture and what we have here."
He also loves seeing the people, observing the alchemy of the city, often stopping for chats. It's in these interactions where Schneider gets a clear sense of what the City needs – each person and the community as a whole.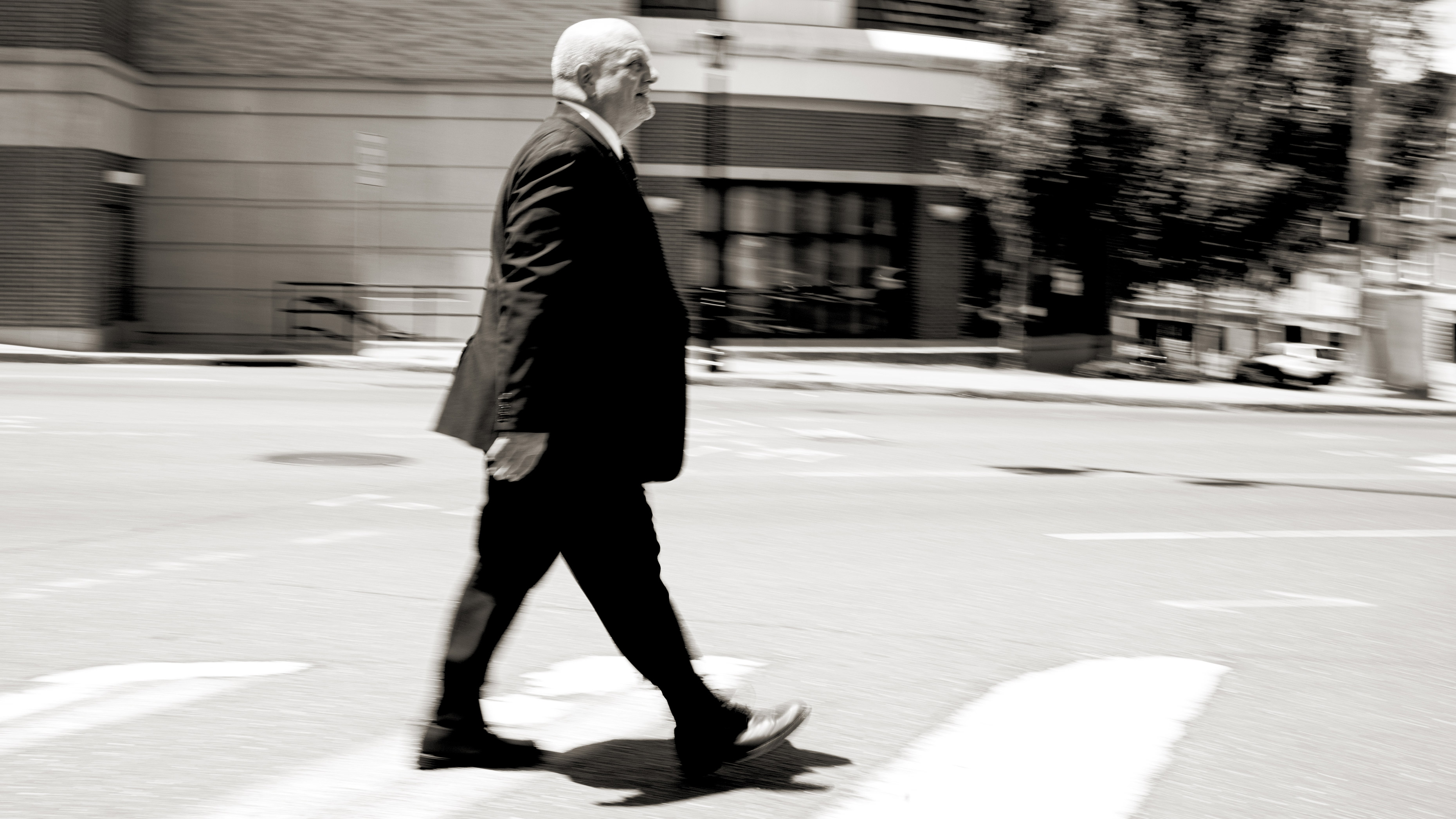 WORX
---
Schneider is from the Windy City – Chicago – born there in 1952 as the middle child of a furniture-selling father and stay-at-home mother, who raised the family on the South Side. As a young boy, he observed stunning acts by neighbors – moments that helped shape his open-minded and caring-for-all mentality.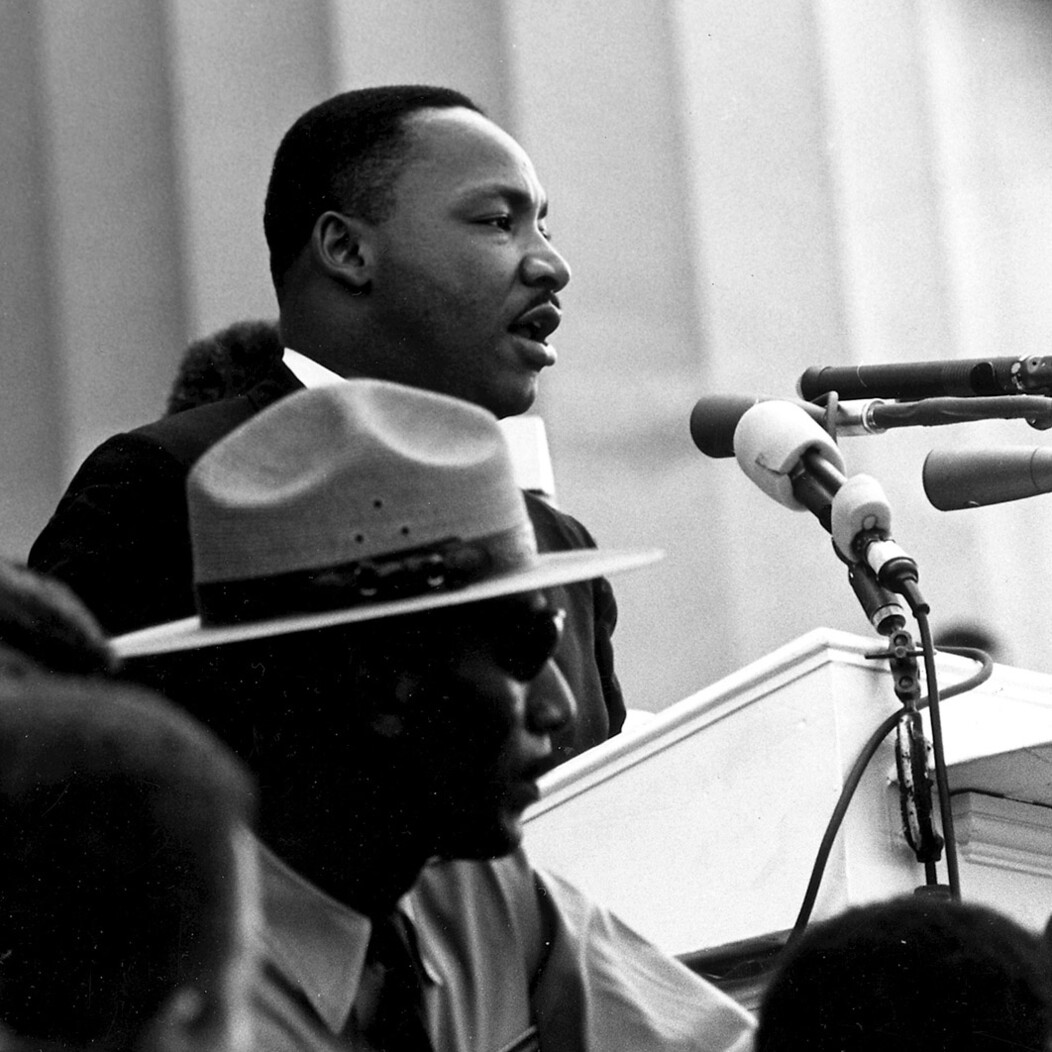 Wikimedia | Creative Commons
"Chicago was a very polarized and segregated city. Martin Luther King Junior was a prominent national figure. He marched through Chicago several times, and I actually watched some of the marches that he did there. And I remember seeing neighbors I actually knew, screaming at Martin Luther King and the people marching with him to get out of there and actually throwing bricks and things like that."
Schneider continues:
"It was a very disillusioning thing for me to see. I had no idea that those capabilities existed in the hearts of neighbors of mine – and it really set my thinking in a very different direction. That's pretty much lasted the rest of my life."
---
His family stayed in Chicago through Scheider's junior year of high school. One could argue that Steve raised himself during senior year, as months prior, his parents decided to move the family to Omaha, Nebraska. Young Schneider refused to go – and instead, crashed on friend's couches, bedroom floors and such.
He would reunite with the family in Cornhusker country – spending the next eight years there, earning his Bachelor's in Biology, Pre-Med and Doctor of Medicine from the University of Nebraska.
While as a high schooler he was terrified of getting drafted for the Vietnam War, Schneider ironically wound up in the U.S. Army anyways – a concession for having his medical school tuition paid.
At Fort Lewis in Washington state, Steve got trained in Emergency Medicine, which was a new specialty at the time. This experience came in handy when he was sent to Fort Benning, Georgia – and he immediately became, at 28 years old, the only person there who knew Emergency Medicine.
Undeterred, Schneider dove into the work and subsequently reorganized the Emergency Department at Benning's Martin Army Hospital – which he cites as one of his most notable accomplishments.
Schneider in the U.S. Army.
So many of Schneider's accomplishments are notable over his four-plus-decade career – none more so than advances he has helped bring to the Waterbury region in the last few years.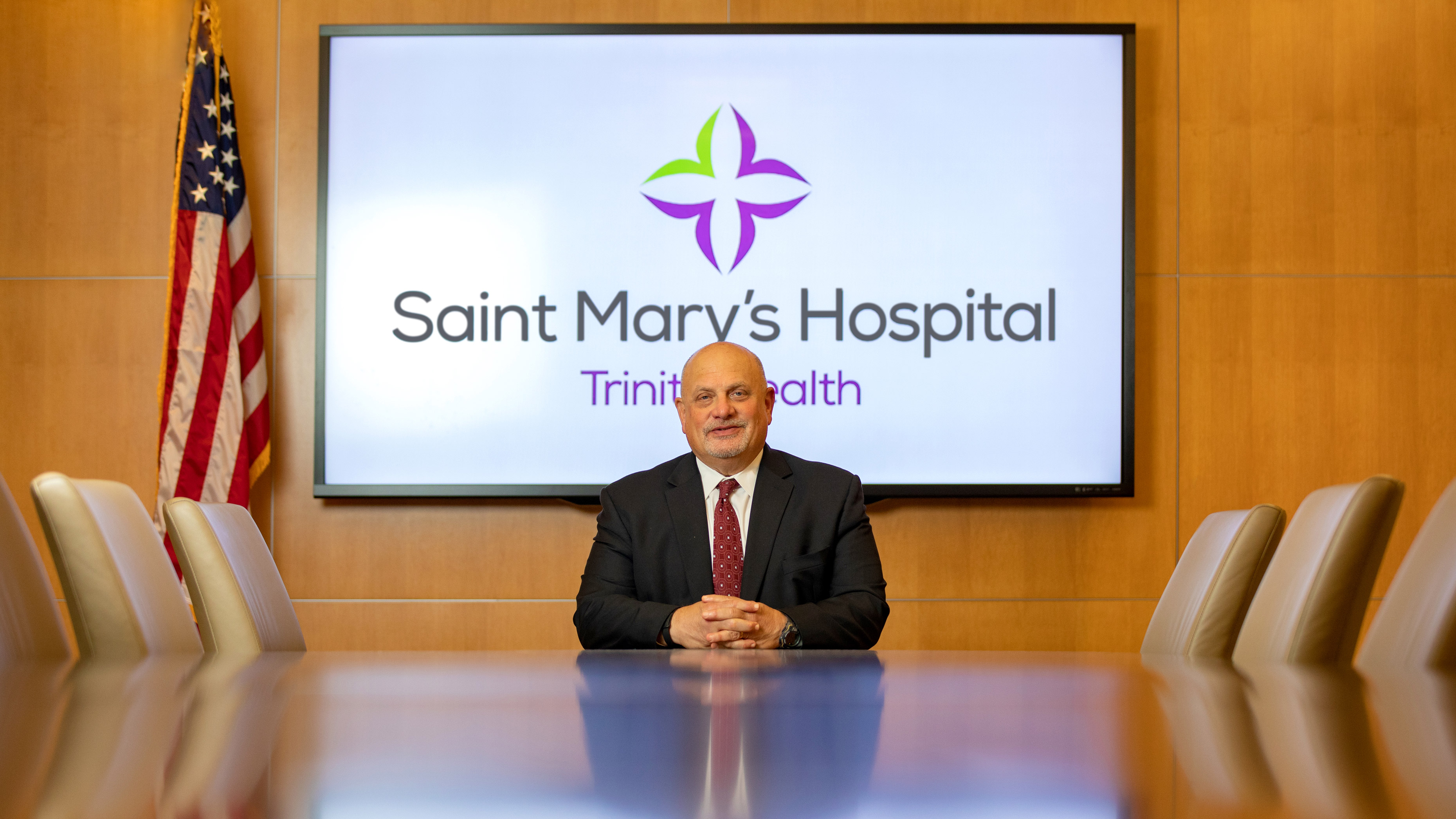 WORX
Seeing that citizens needed core hospital services within ten minutes of where they live, Schneider helped Saint Mary's establish urgent care centers in Cheshire, Naugatuck, Wolcott – and two in Waterbury.
Schneider was also influential in the creation of the Joyce D. and Andrew J. Mandell Center for Comprehensive Multiple Sclerosis Care and Neuroscience Research at Saint Mary's Hospital.
Nearly one thousand MS patients in the Waterbury region are now able to get treatments in one central location, with a dedicated team of specialists – rather than having to take arduous and energy-sapping trips out of market.
---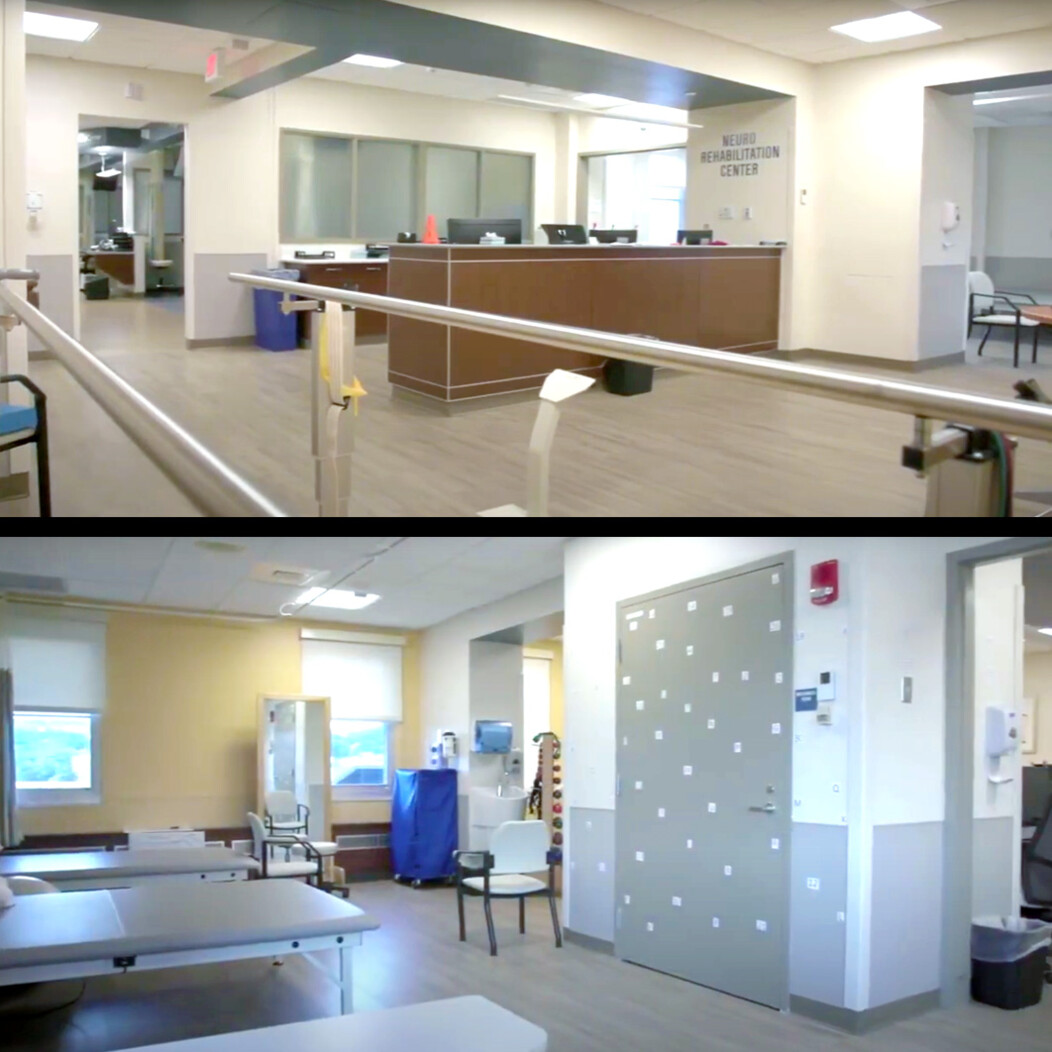 WORX
The MS Center at Saint Mary's Hospital.
A new Breast Imaging Center at the hospital, a joint venture with the City of Waterbury to launch walk-up COVID-19 testing locations, and the selection of Saint Mary's as one of the Most Wired Hospitals in the country, are all accolades that Schneider is proud of – and feels underscore the high quality of healthcare in Waterbury.
"We do benefit from proximity. In a very small state, we have three good medicals schools – Yale, the University of Connecticut and Quinnipiac – and a lot of our medical staff come from the local medical educational communities."
Not only is Schneider complimentary of the advancements that Saint Mary's has made, he also tips his cap to the other City healthcare leader, Waterbury Hospital. Before Saint Mary's, ironically, Schneider was at Waterbury Hospital for 22 years – serving as the Chair of Psychiatry for five, and as the Chief Medical Officer for seventeen.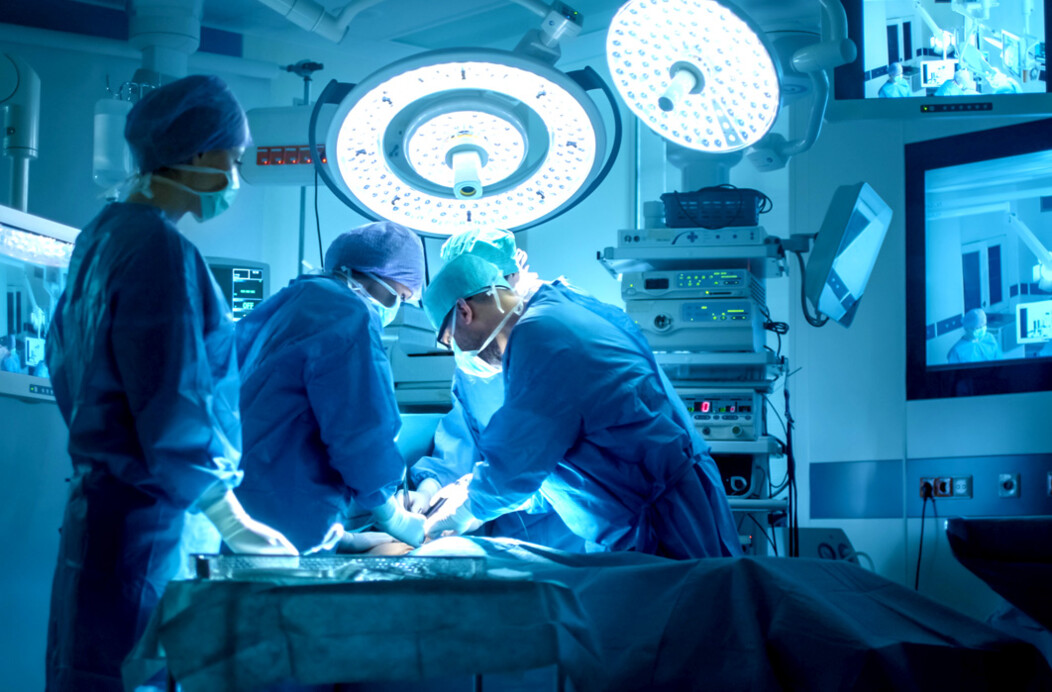 For everything from a hip replacement to a broken ankle, from a heart attack to needing open heart surgery, I believe that you're served as well here as you are in any community in this state.
With a view from both sides, he acknowledges that there is a "simultaneous collaborative and competitive" relationship between Saint Mary's Hospital and Waterbury Hospital – a rivalrous respect akin to the Red Sox and Yankees. Schneider, by the way, is a diehard Red Sox fan.
---
As Schneider heads down East Main Street, he walks with efficiency, low to the ground and balanced, like a linebacker. (It comes as no surprise to learn that he was a standout footballer at Bogan High School in Chicago.) Were it not for the afore-mentioned black suit, Schneider would be just another citizen enjoying the day.
Schneider quite likes this spot in the crowd, as it offers a true perspective on what people need to succeed. This "universal view" strongly informs his leadership style.
"I try to listen carefully to everybody. And I do very much believe in the philosophy that the best leader is one where the focus is not on the leader. I believe in that pretty deeply."
He freely admits that the saying likely originated from Mahatma Gandhi, one of his life heroes. Schneider is amazed at what Gandhi accomplished through non-violent ways.
"He was a self-sacrificing man who brought unimaginable change to an entire continent, without ever lifting a finger in conflict. And, he was about as humble as you could possibly be."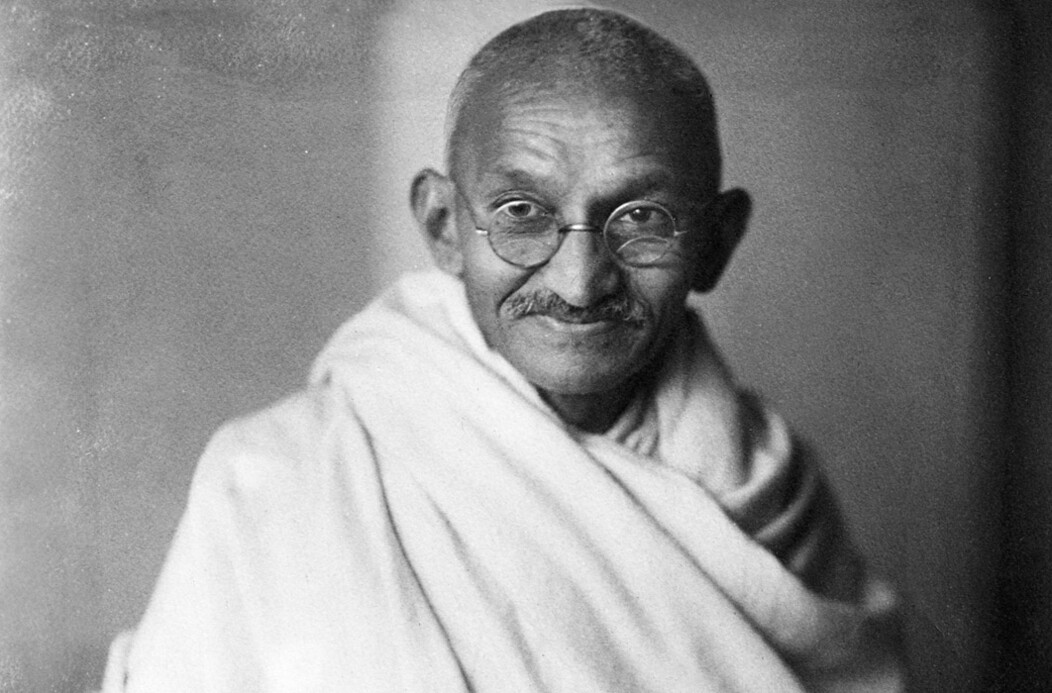 Wikimedia | Creative Commons
---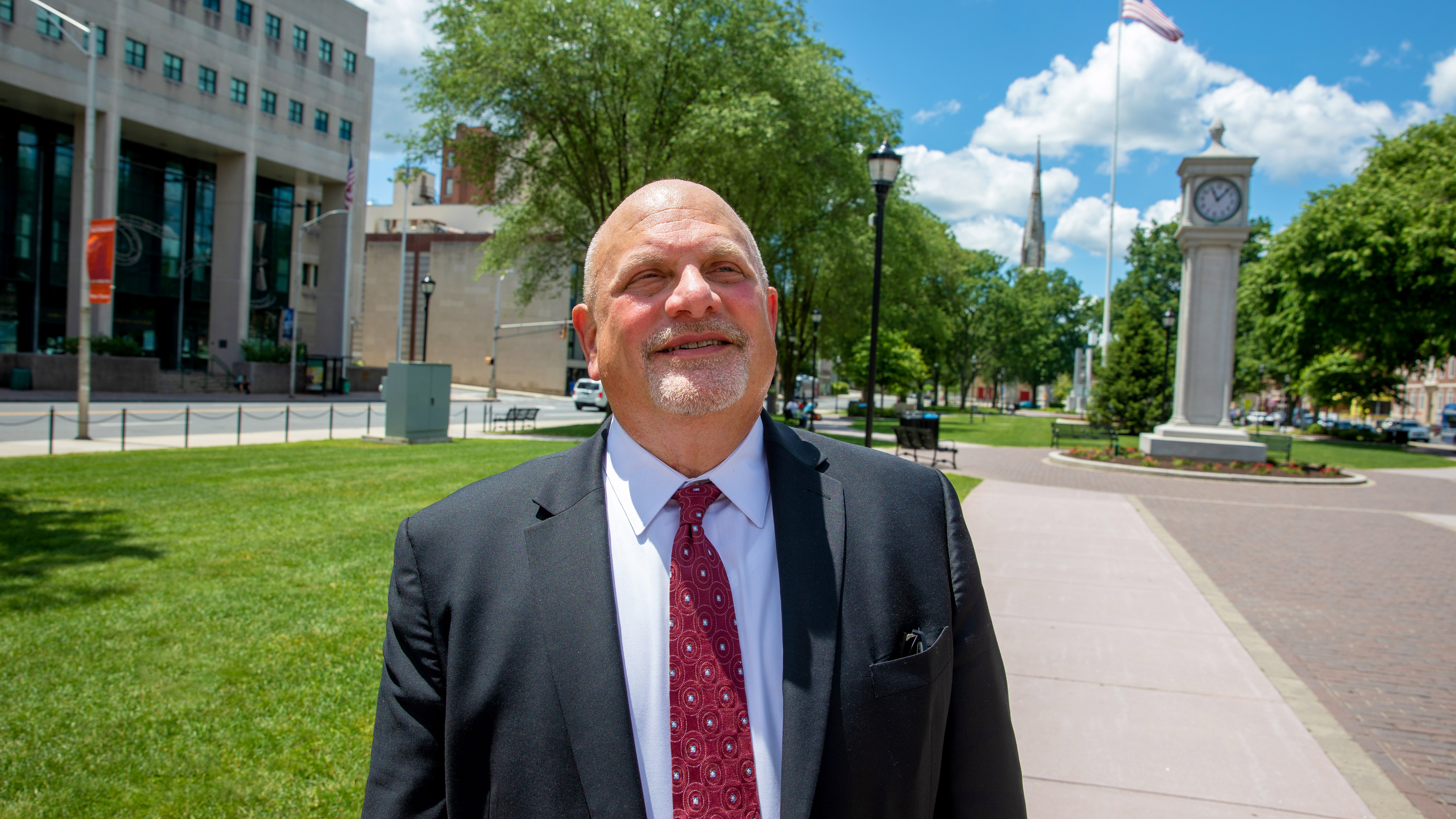 WORX
As Steve makes it to the Waterbury Green, he looks up, out and around – as enamored as the first time he saw the area. He waxes philosophical, summarizing his beliefs on Waterbury through the lens of another influence, Deepak Chopra.
"Perception is not always an absolute thing. Perception in part is determined by the viewer of the thing."
"When I walk, I really like seeing what the community is that we serve. There are so many different kinds of communities here, and they're all very interesting. You just learn more about what the world is like by being around so many different people. And it's a very safe feeling to me, to walk around. I've not gone anywhere that I have not felt safe."
At the end of his walk, back at the hospital, Schneider offers an analogy – and a clear message to prospective investors:
"Waterbury is like very fertile soil, and there are seeds here that will grow and sprout with a little bit of fertilizer. We're already seeing some of it, that the workforce is here – eager and ready to go. If you want to be in a place that's growing, that's ambitious, that's hungry to develop, that has a true sense of community and spirit… you're not going to find a better place than Waterbury."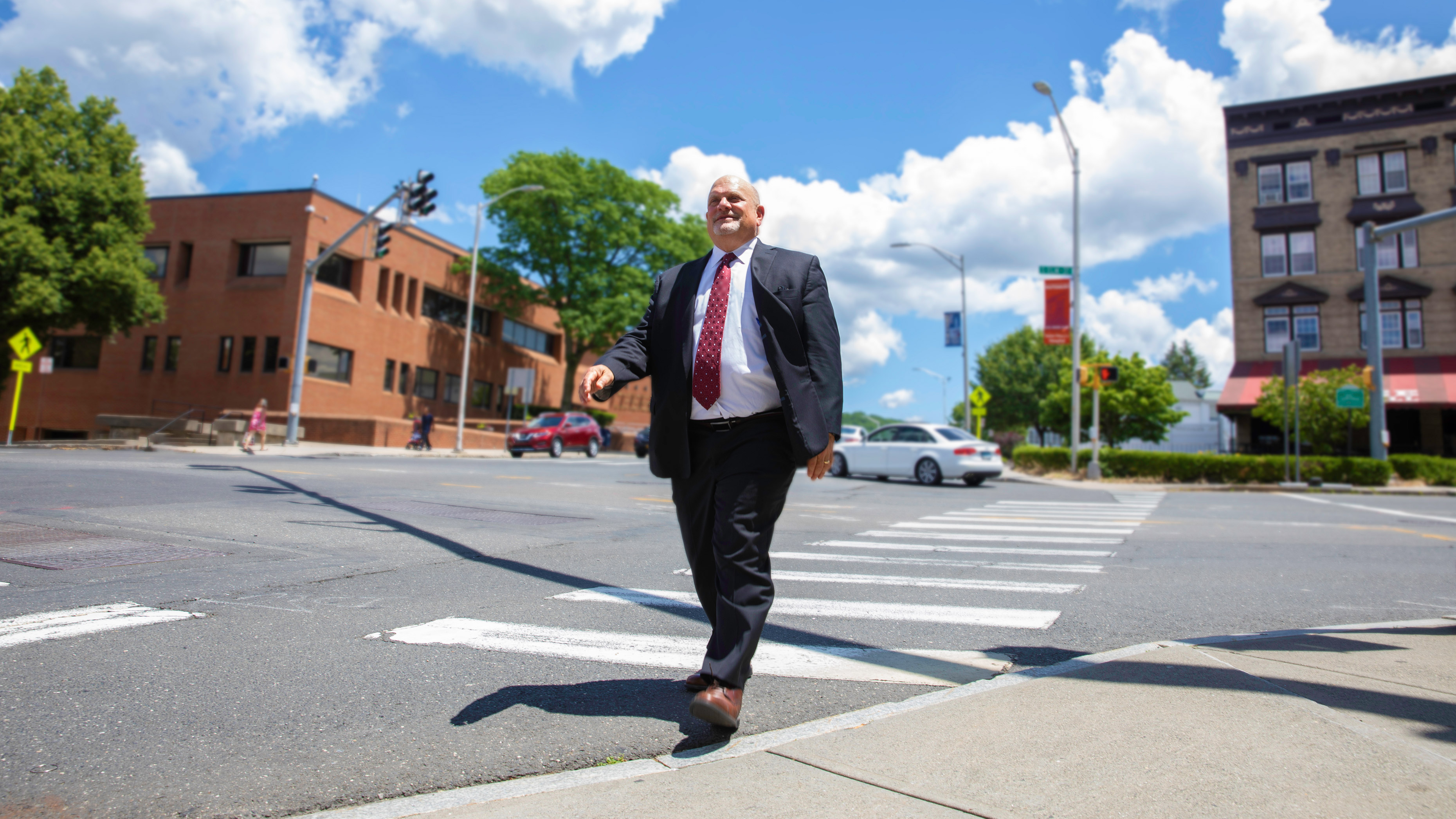 WORX