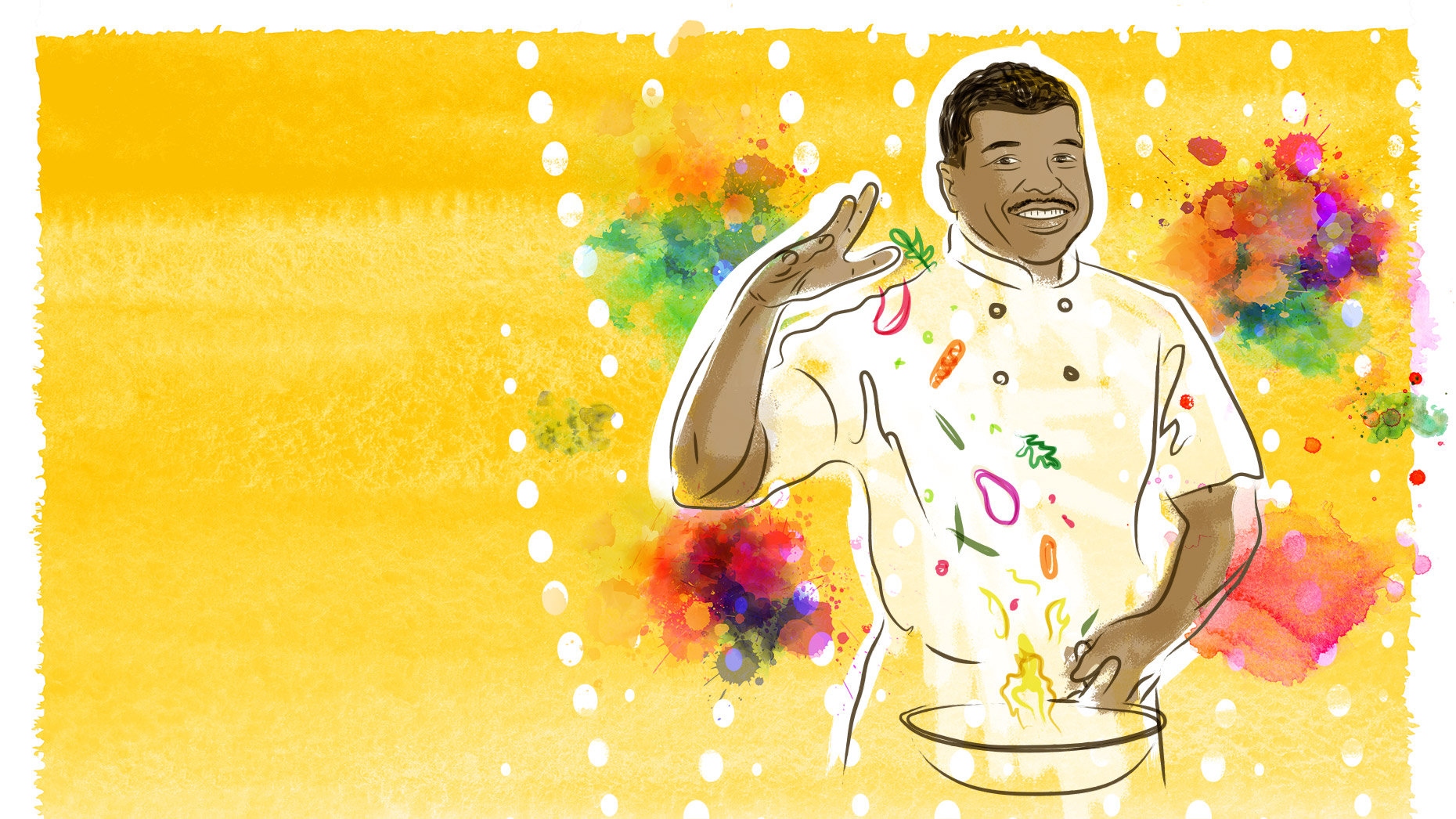 Masterpieces
On Plates:
The Art
Of Yum
Fueled by boundless creativity and brotherly chemistry, THE ART OF YUM has established itself as one of the top restaurants in the vibrant Waterbury scene. Two of its ownership trio talk about what they're really delivering to their patrons – and who they're trying to prove wrong.
He walks over to a table of two, a man and woman enjoying a brunch-time creation that looks as if avocados and chicken got together for a dance party. The food seems to be having lots of fun, just like the chef who created it.
The man turns to the wall behind their table, and asks the chef, "I love this painting. A local artist?"
The chef answers, proud but humble, "Well, yes. Most of the paintings you see here are mine."
Michone Arrington is the Founder and Executive Chef at The Art Of Yum, an eclectic fusion restaurant nestled within the Mattatuck Museum in downtown Waterbury, and with a second location in Southington.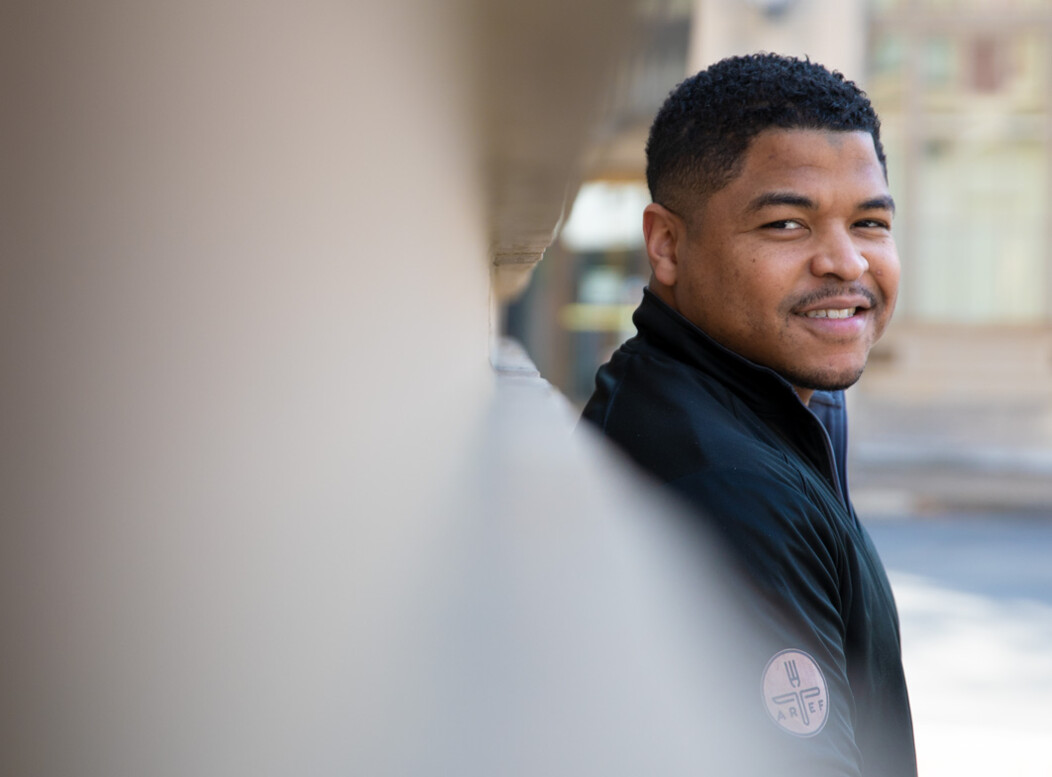 WORX
Prior to the restaurant, Michone dabbled in dance, music, photography, videography – skills that he still utilizes in crafting an invigorating dining experience.
And as for the food?
"I WANT every plate to come out like a piece of art."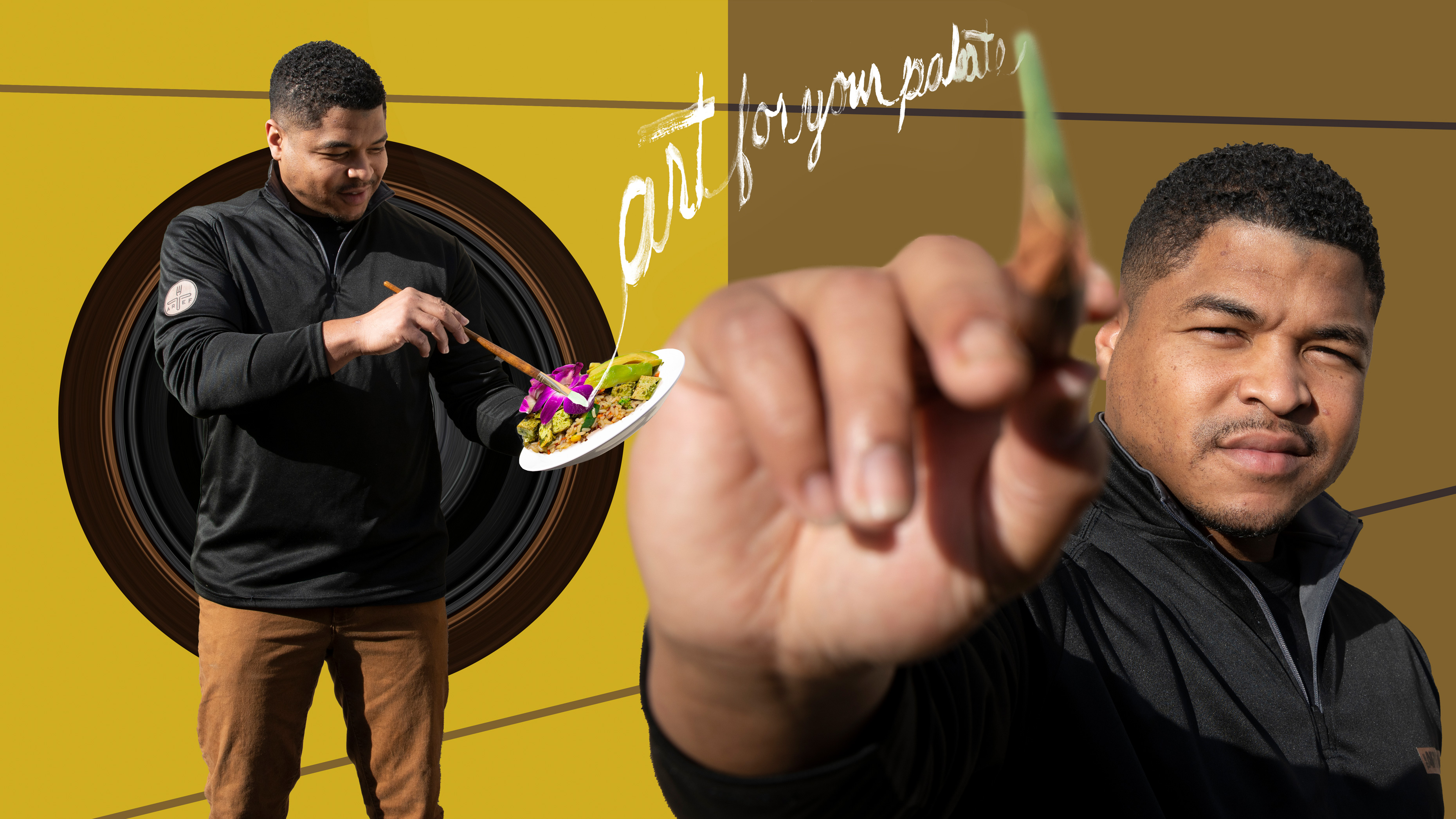 WORX
Arrington wears a black chef's jacket with The Art Of Yum logo emblazoned on the chest. On the sleeve, a second mark – a part human, part silverware piece with the letters ARTEF intertwined. Michone explains that the word is a mash up of "Artist" and "Chef."
Unlike the restaurant name, he didn't come up with it. So who did? None other than the greatest point guard who ever played basketball, Earvin "Magic" Johnson – in reaction to seeing Michone in action.
Magic and Michone crossed paths while Arrington was the Talent Chef at ESPN – the Worldwide Leader in Sports, with a campus constantly catering to world-class celebrities and athletes. Arrington found himself cooking up delights for the upper crust of the sports and entertainment world – both at the ESPN headquarters, and in their private homes.
Drake. Denzel. Kevin Hart. Odell Beckham Jr. Jerry Rice. Dwayne "The Rock" Johnson. Matt Damon. Arrington has cooked for them all.
As these celebs started requesting more of Michone for personal chef gigs, he made a bold declaration:
"I was like, 'You know what, I'm a very artsy person. Let me put a name to this, and create something special.' And then I called Donte and James, and said, 'Alright, guys, I need your help.'"
Enter, The Art Of Yum owners two and three: Donte Jones and James Thompson.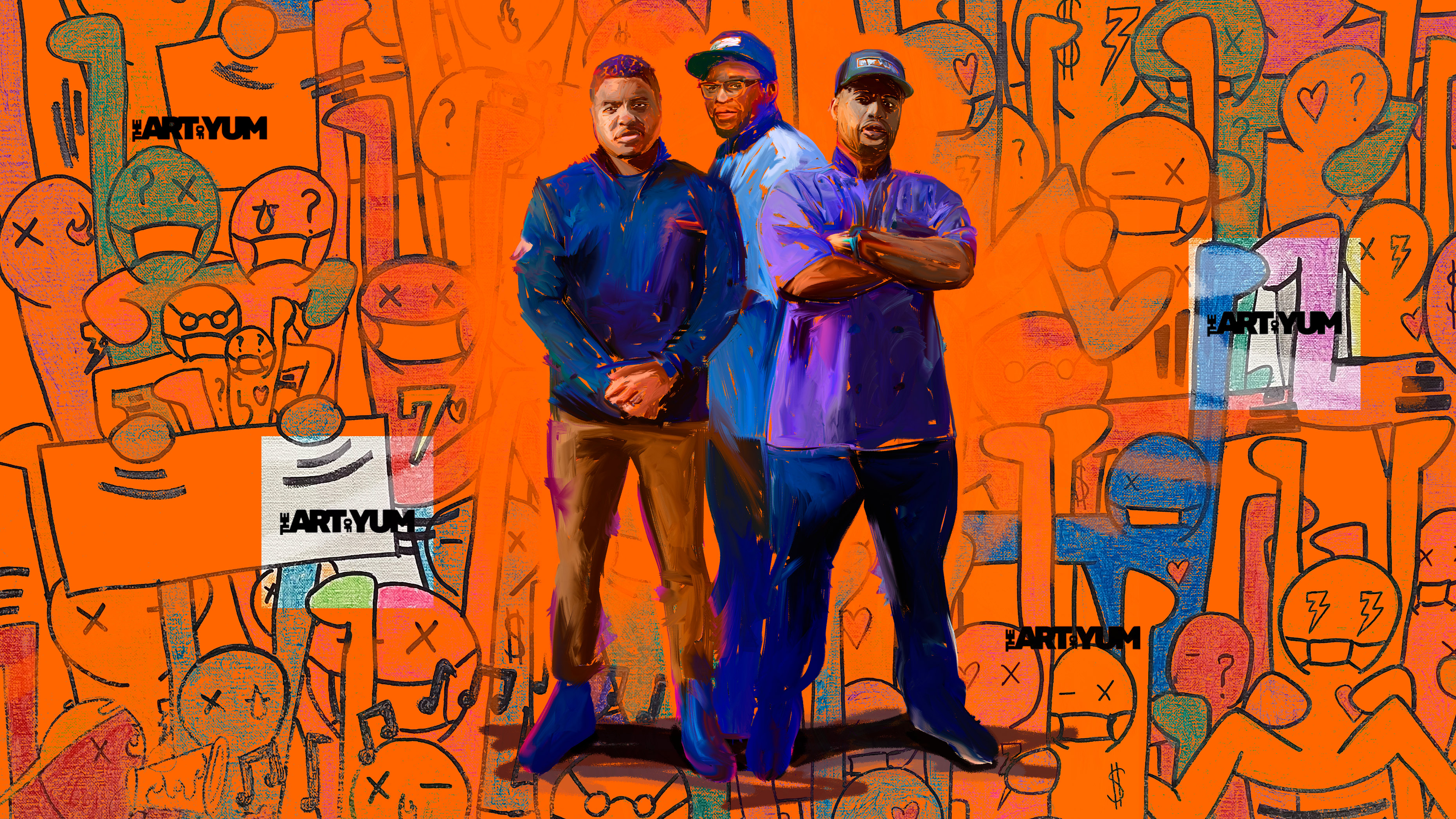 WORX
If you squint your eyes, the three chef/owners look like football stars themselves – Arrington, the stocky running back; Jones, the solid linebacker; Thompson, the lineman you don't want to blitz on.
And when you watch them in action, they are athletes – hustling to prep their jaw-dropping dishes, while planning out major events, while greeting customers, while coordinating the next way to help the less fortunate.
Their interests, specialties and dishes – like The Art Of Yum venue itself – are varied yet harmonious. Arrington views the restaurant space as "a mixture of homey, artsy, different cultures," with a menu that delivers the same.
There's a few things that you would get at grandma's house, and a few things you'll get in different countries. It's all a melting pot. I hope that you come here and it's an experience for you. i hope it opens your mind.

The Art Of Yum
The Art Of Yum serves breakfast, lunch and dinner – a feat in itself for any restaurant. They do catering. They host comedy nights, and painting parties. They do personal cooking classes.
But the boys don't stop there.
They also have Fitbox, an extensive series of meal kits featuring vegan options and the latest in healthy eating. Folks like The Rock have helped galvanize the meal plans – explicitly saying what Fitbox items he will or won't eat.
All three chefs have created, and sell, their own signature sauces. Arrington has Michi Sauce, a General Tso-like concoction with a New England-y hint of maple. Jones has Dijon Donte, a mustard-meets-chipotle mix. Thompson has Chef James, a long-smoked barbecue sauce that makes any mouth water.
And recently, they retired their popular personal food trucks – the fish tacos were to die for – to team up with the Waterbury Police Activity League (PAL), a not-for-profit organization that promotes partnerships between youth and law enforcement.
Now, the executive chefs are showing a team of young ones all aspects of cooking.
Says Arrington, "This is very special for us, because we wanted to help the community. Youth who are interested in culinary arts now have a food truck, and learn about the business – like how to balance a checkbook, or how to know you're making money. Kids that come from only knowing what chicken and fries are, to being able to have a conversation with a front chef, is pretty awesome."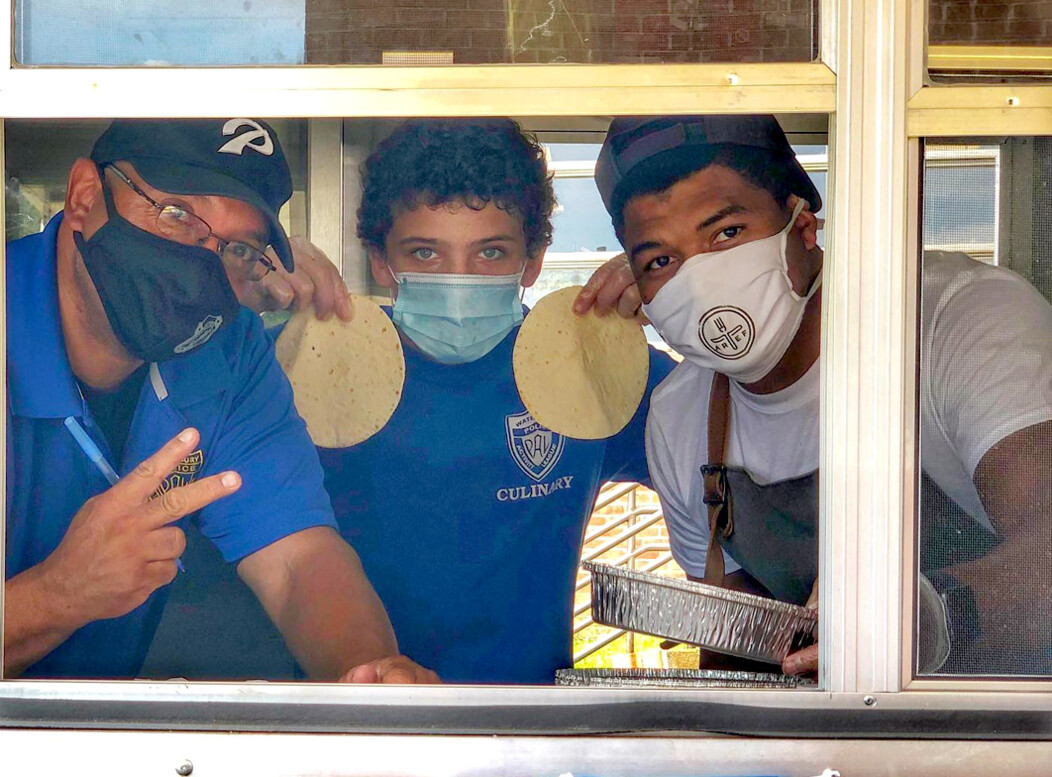 The Art Of Yum
"It's mostly gourmet food, handmade by kids who are learning and trying to better themselves. You're supporting someone's dream in the future."
Waterbury holds a special place in the hearts of the guys. Arrington and Jones grew up in the city – although they didn't really know each other well during their school years, only later becoming friends during their ESPN days.
Michone comes from two large, well-known Waterbury families – the Mayas and the Arringtons. Mom and Dad were both professional entertainers, always singing, dancing, bringing people together. (As a point of reference, Arrington says his grade level growing up had no less than ten cousins in it.) He jokes that the patronage from his family alone was reason enough to open The Art Of Yum.
Michone's father works at the restaurant, as its one-of-a-kind maitre d' – gregarious, with a perma-smile, and a wardrobe that's on point.
He looks like he stepped off a movie set, as much as he just stepped up to greet us.
On the day we dined at The Art Of Yum – a "Casual Friday" – Mister Arrington welcomes us with a dance move and song chorus, while sporting a dapper three-piece gray suit with matching hat, set off by a lavender tie and dress shirt.
---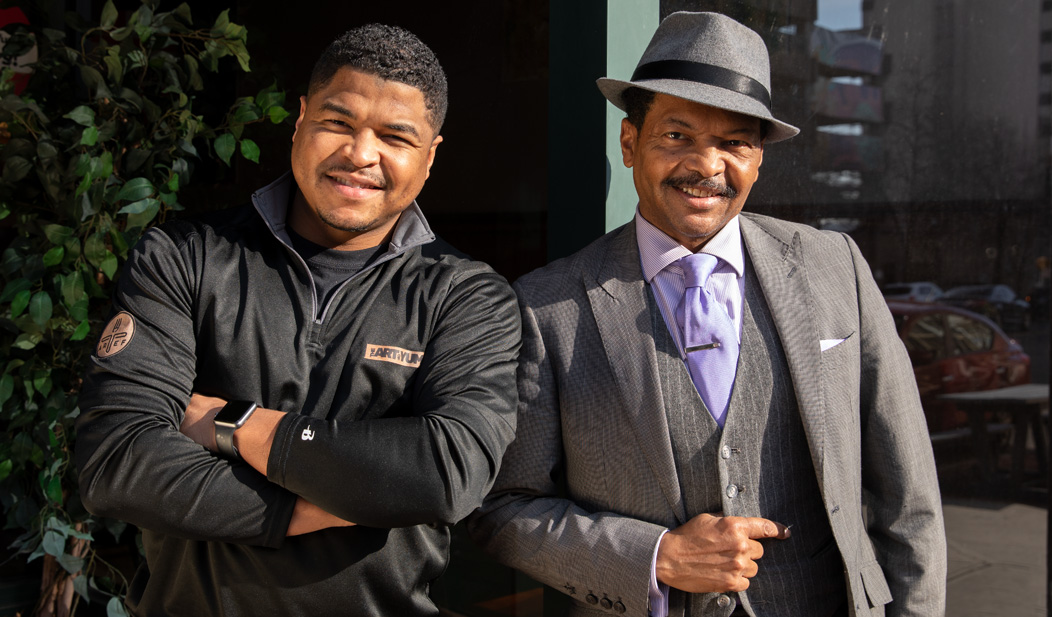 WORX
Father and son Arrington, in front of The Art of Yum facade.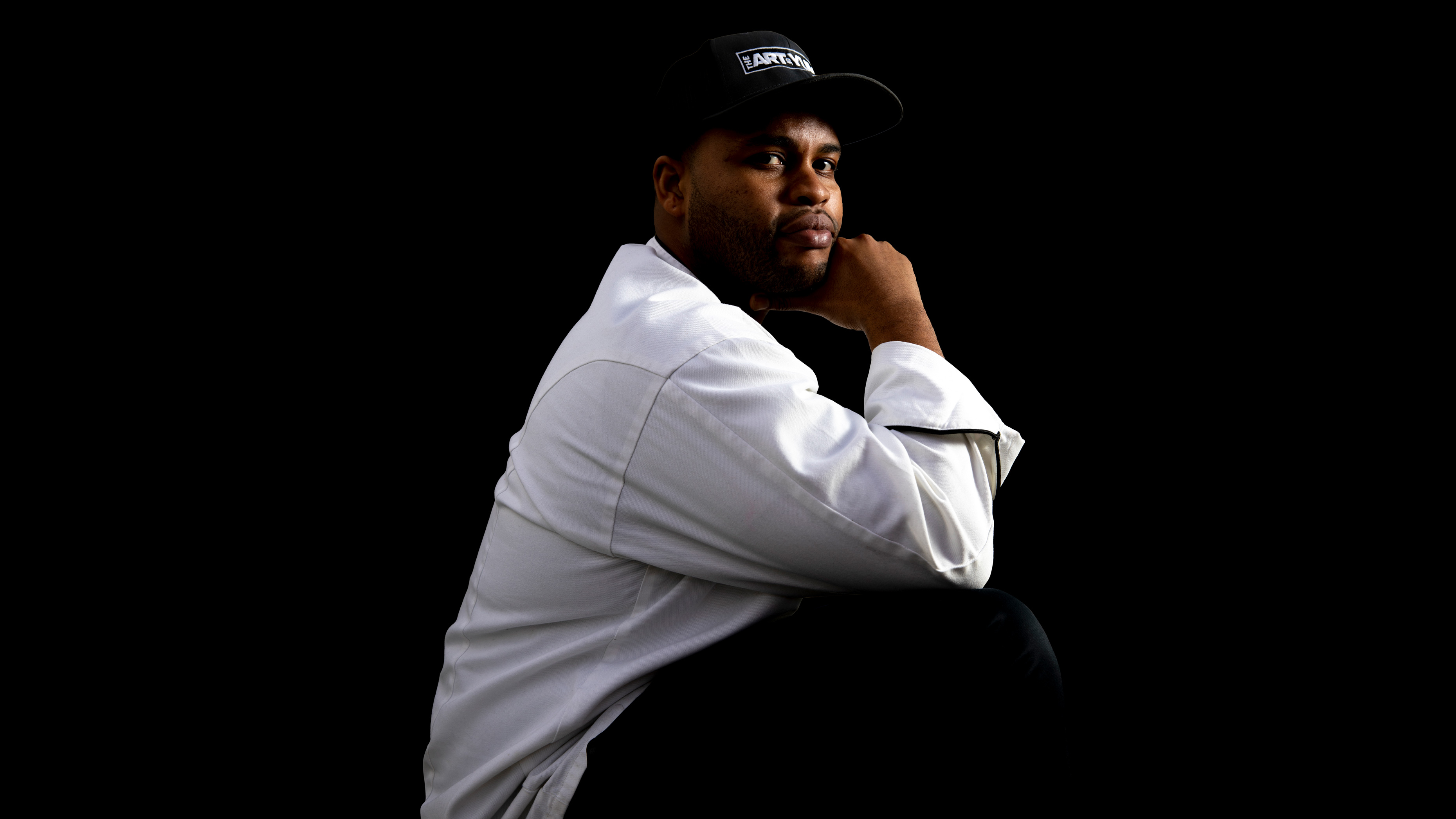 WORX
Chef Donte Jones comes from a much smaller family. He's one of four boys – including a twin – who were raised by his mother.
Donte's father was killed when Donte was six. Dwayne Jones Sr. was only 28 years old.
The startling event left Mom to become both the female and male role model – which she did, admirably, while working multiple jobs.
"She inspired me, just seeing how hard she worked to make sure that every day we went to school, we had a good education, we had haircuts."
---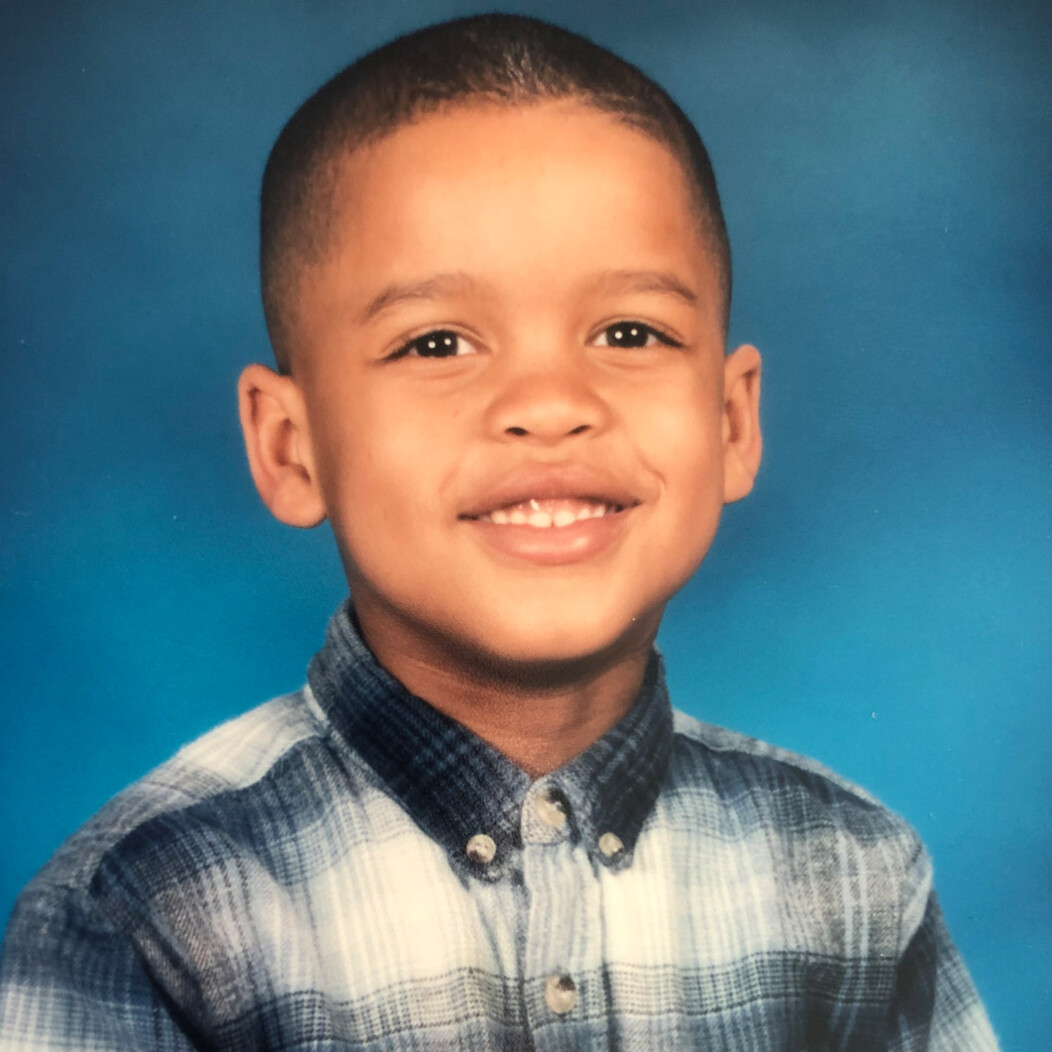 Jones Family
A young Donte Jones, around the time when his father was killed.
Mom's work ethic eventually rubbed off on Donte, during his senior year at Kaynor Tech, a vocational school in Waterbury. At Kaynor, he was learning the culinary arts trade, but also taking the occasional day off.
Seeing his talent, the school's chef made a deal with Donte: "If you come to school on time, and every day, I'll try to line up a job for you at ESPN, because I know one of the chefs."
Mom's example and the chef's words clicked. Jones went all in on learning. In 2008, he graduated at the top of his class – and after graduating, did in fact get the job offer.
By 2011, all three future owners of The Art Of Yum were working at ESPN.

WORX
Michone, Donte and James are all fathers and family men – devoted, dedicated, active. They're also overwhelmingly positive. Even during the pandemic, they viewed the economic downturn as an opportunity to spend more time with their families.
And there's this, a social media post Michone penned as a companion to a photo of the three:
"I don't want you to see three amazingly handsome black men. I want you to see behind the curtain. Three hardworking, never quitting, intellectually keen, personally gracious and, meticulously prepared men. Three insanely great fathers, sensitive & loving husbands, pillars in their own family trees. Humble but confident, creative but responsible, all very different but special together. I want you to see a dream turned reality by one, shared and expanded with two, to create a staple solidified by three."
---
While their talents have created a stir in the local restaurant scene, The Art Of Yum owners also credit the City of Waterbury economic development team for getting them established.
"The City helped us out a lot," Says Jones. "There's initiatives out there and different programs that help small business owners to have their business thrive, and make sure that they're behind you so that you make it to the next level."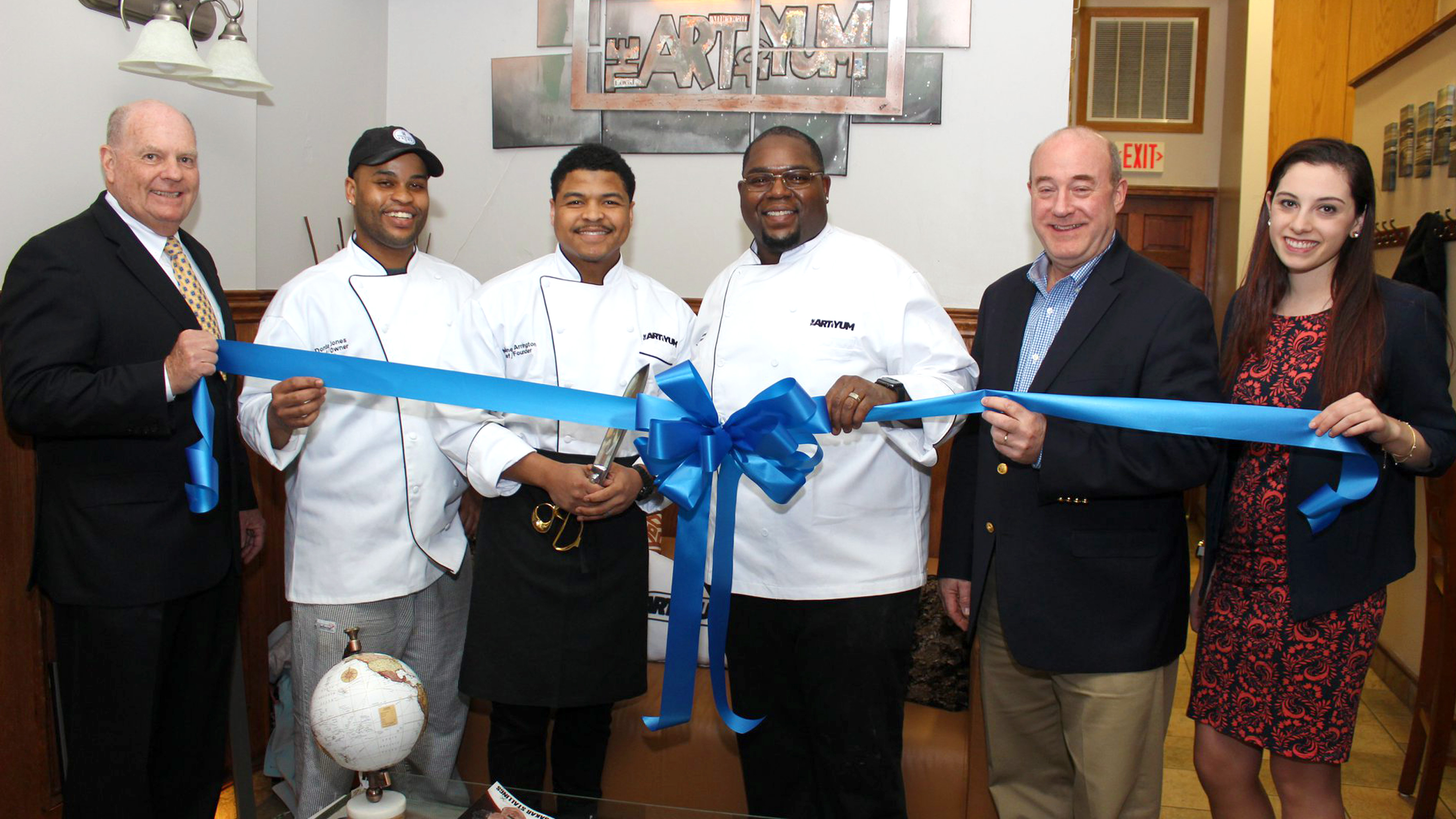 City of Waterbury
The Art Of Yum owners with City of Waterbury, Main Street Waterbury and Waterbury Regional Chamber members, 2019.
Like the athletes and celebs they've cooked for, The Art Of Yum guys are competitive. And, proud of their role in revitalizing Downtown Waterbury – so much so that they're on a mission to prove the "naysayers," as Michone calls them, wrong.
"You go to any other town, which is like Waterbury but worse, and they're like, 'Oh, Waterbury, really?' Anywhere you go, people have negative things to say, because that's just easy. Just keep your head up. Be positive. Give your best you to Waterbury, and Waterbury will give it back."
Donte agrees:
"Coming into a space like Waterbury, there's opportunity here. We get a lot of people that hadn't been to Waterbury. They're like, 'Maybe I should come check this spot out. These guys are putting out some pretty amazing stuff.'"
"I think Waterbury is an amazing place to raise a family, to start a business, and to meet amazing people as well. Waterbury is one of the hidden gems in Connecticut."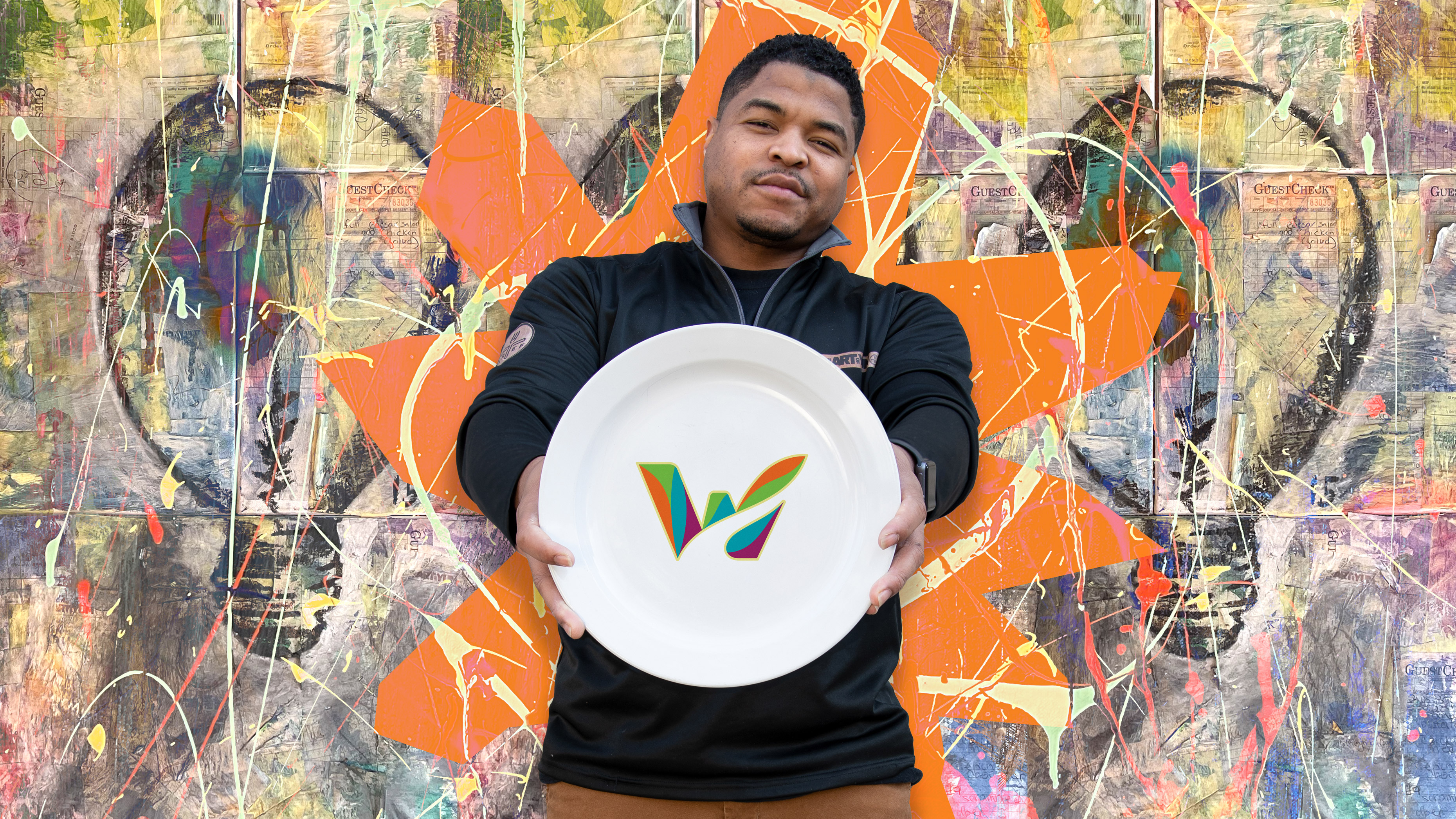 WORX